CoD MW3 News: Didn't get what you wanted during the holidays? Amazon's holding a day-long sale on specific games as part of its Gold Box, which may include CoD MW3.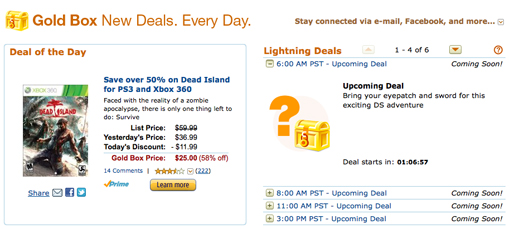 Dead Island, possibly CoD MW3 is Amazon's Deal of the Day along with five more lighting deals
Didn't get what you wanted during the holidays? Amazon is holding a day-long sale on specific games as part of its Deal of the Day and Lighting Deals.

It was Christmas Eve one month ago today. Just in case you didn't get the video games you wanted that next morning, Amazon.com is running a day-long sale on popular titles that may have slipped for wish list - a total of seven deep discounts to be exact. Of course, we can't reveal all seven yet because, as with all video game deals that are part of Amazon's Gold Box, some remain a mystery that need our best guessers. Here's what doesn't have us stumped:

The Deal of the Day is Dead Island, which may be a game that slipped for mind during the jam-packed holiday season, or maybe it was the Dead Island bugs and glitches that forced you to hold off on picking it up in the first place. The game is a couple of patches in, so paying $25 for either the PS3 version or Xbox 360 version of this now-stable game seems like a case of ?good things come to those who wait.?

Onto the mystery deals, the first game will be revealed at 9:00 am with the hint: ?Bring your eyepatch and sword for this exciting DS adventure.? That means it could be one of two Nintendo DS games, both of the same property: Pirates of the Caribbean: At World's End or LEGO Pirates of the Caribbean. We're really hoping that it's the latter, but something tells us Amazon would've thrown in a cuter ?blocky? reference into the hint if that were the case.

At 11:00 am, there's ?a multiplayer Dance-Fitness game for Wii that gives players a great full body workout in a fun dance class environment!? Sorry, it's probably not Just Dance 3, folks. I'd set my sights on seeing a deal for Zumba Fitness, which features a two-on-two co-op option.

At 2:00 pm, Amazon plans to put ?the biggest game release of all time? on sale. What does the online retailer consider the biggest of all time? Could it really be a cheap Call of Duty game? Certainly, but probably it may or may not be the one you're thinking of. Call of Duty: Black Ops has been out longer, but CoD MW3 had stronger launch and will eventually dethrone CoD Black Ops in total sales. Of course, if Amazon is counting pack-in titles, Wii Sports, which came with every Wii console for the first couple of years, may be on sale from its current $19.99 price. We'll just have to wait and see how Amazon crunches the numbers.

We're a little more sure about the 6:00 pm game, with the hint ?Enjoy this Wii fitness game with your entire family!? All bets are on Wii Fit for Nintendo Wii.

At 9 pm, Amazon went with another accessory-focused game sale, hinting at Rocksmith for Xbox 360 and PS3 with ?Rock out with your own guitar.?

Finally, at 11 pm, you'll be able to pony up a very small, discounted fee for The Black Eyed Peas Experience for either Xbox 360 or Wii thanks to the very obvious hint ??I Gotta Feeling'...this game will make you move.?

Deals Overview
Amazon Gold Box Deals seem to delve deep in the dance, pop music and family-friendly genre... except for game with ?the biggest game release of all time? as its hint. That could be CoD MW3 in the end, which - if it is - except Amazon's deals page to crash tenfold like it did the site put Red Dead Redemption up for sale a few years ago.