Resident Evil: Raccoon City News: The latest trailer for Resident Evil: Raccoon City is here, featuring two groups of soldiers battling their way through a zombie-ridden nightmare.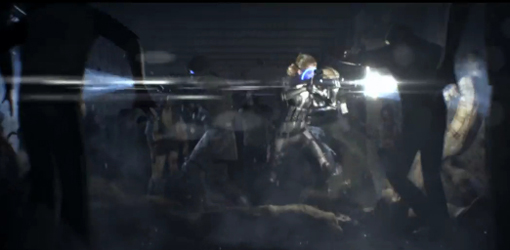 Resident Evil: Raccoon City's latest trailer is five minutes of well-crafted, CGI action. It's soldiers fighting zombies fighting survivors, and it reminds me a bit of Final Fantasy: The Spirits Within. Unlike that film, however, the action in this clip actually looks like the game it's based on.



Interesting that the trailer highlights the conflict between two human forces, Umbrella and the Raccoon City police. The zombies are treated as something of an environmental hazard for the two. Pitting the undead against your enemies will undoubtedly be a big part of combat. In the trailer they use pheromone gas, and even strap them with grenades to make shambling time bombs. Then a Tyrant shows up and starts throwing cars, and things get complicated.

Overall, this is a trailer that will be getting people's hopes up. It's a return to what's arguably the most iconic and interesting locale of the series: the urban wasteland of Raccoon City. You can also detect the influence of the RE movies, in the form of that Licker Kung Fu takedown and some hammy soldier dialog. So whether you prefer the games (we can be friends) or the film adaptations (don't talk to me), Resident Evil: Raccoon City should be just what you're looking for.