Star Trek Online News: Retake the bridge for free, thanks to Cryptic Studios. They're giving anyone with a lapsed account early access to F2P content in Star Trek Online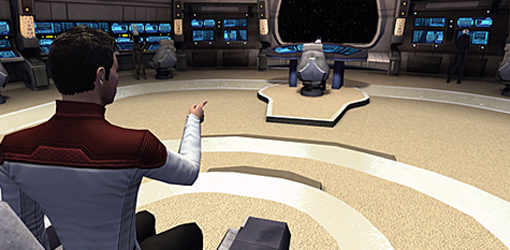 If you have an inactive Star Trek Online account, you can start playing at no cost, right now. Even if you only played for the free trial month and never gave Cryptic Studios a dime (you cheapskate), you can start exploring the galaxy as a Silver member, according to the STO's official blog.



STO is one of several MMO's to take the free-to-play route recently.

DC Universe tried it

, and managed to net over

a million new players

. Star Trek's approach is a bit different. Back in November, when they

announced the F2P move

, they laid out a tiered pricing structure that divided players into

Gold and Silver members

.

Don't think that letting people in for free means that Cryptic will let STO stagnate. There are

new starships and story arcs

set to launch in February and March. In fact, lead designer Stephen D'Angelo has lofty plans, saying:
It's my goal to have something new in the game nearly every week starting with the second anniversary event and running through the end of April.

The official free-to-play roll out begins January 17, but remember, an inactive account can get you beamed to the bridge this very moment.
source: Star Trek Online official blog