PS3, Xbox 360 News: ?Tekken? it to the skies on November 15, this XBL, PSN add-on will be priced at $5.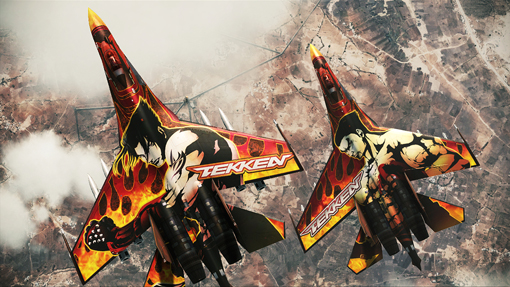 Are you a hardcore Tekken fan? How about an avid Ace Combat maverick? If you answered yes to both of those questions and own a copy of Ace Combat Assault Horizon, which released last month for Xbox 360 or PS3, then you're in luck. Namco Bandai just announced that its second DLC for the game will be Tekken-themed aircraft skins. Yes, Tekken is finally crossing over with another video game - sadly, it's not Street Fighter X Capcom just yet.



These Tekken-stylized paint jobs are for the Su-35 Flanker-E aircraft, the performance-tuned successor to the Su-27. You'll find King of Iron Fist Tournament icon Jin Kazama and his father, the always maniacal (except for the first two games) Kazuya Mishima on the pair of Su-35s once you download the content. It's nice to see these two Tekken fighters bonding, because, if you follow the plot of the Tekken series, they sure don't get along in the King of the Iron Fist Tournaments.

Of course, having Jin and Kazuya as well as cool-looking flames on your jets does come at a cost. On PS3, the DLC will cost $5. On Xbox 360, it'll be 400 Microsoft Point - in other words, $5. The next crossover for Tekken (though developed by Capcom) will be Street Fighter X Tekken next year, but, again, we're really looking forward to the ?sometime in the future? release date of Street Fighter X Capcom, as it'll be in Tekken's 3D fighting style.