Batman: Arkham City DLC News: Nightwing DLC is here, Robin DLC release date November 22. You can kick ass in challenge mode as both vigilantes, but what about campaign?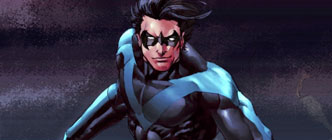 For $7 you can play as Nightwing in Batman: Arkham City's challenge mode, one of two character DLCs planned for November. The Nightwing pack is in the PSN store and Xbox Live Marketplace now, and Robin arrives November 22.

Nightwing is complete with his own brutal combat animations and set of wonderful toys, including stun batons and wrist-mounted dart guns. Watch him kick, flip, and bludgeon his way through the video below.



For the uninitiated, Nightwing is Dick Grayson, an ex-circus acrobat and the first Robin. As Nightwing, he stepped out of Batman's shadow to become a solo vigilante. Since then, Grayson has had center stage in his own series, and even taking up the mantle of Batman in Grant Morrison's comic series

Batman and Robin

, in which Bruce Wayne is missing and believed dead.

Nightwing's DLC release will be followed a similar one featuring

Robin, who will come to challenge mode with his own custom animation and gadgetry on November 22.

Both packs represent a substantial boost to Batman Arkham City's challenge mode, a hearty source of replay value for this GOTY contender. Still, it's a pity the characters aren't available for the general game, unlike the Catwoman DLC. We've reached out to Warner Brothers to see if they have plans to introduce these two heroes to Arkham's general population.