News: Apparently there's something called GamerFood. Apparently I'm writing about it. Apparently it's the end of the day.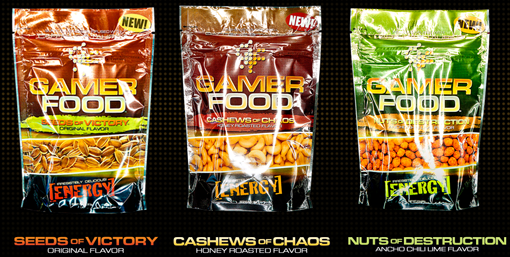 I think my journalism degree becomes null and void after I submit any article that pertains to video game-focused food. But the people at GamerFood have gone to a great deal of trouble to convince me that I need write about their energy-infused snacks. Yes, apparently, just because you thought that you sit still when gaming - except for three fingers on each hand that move half an inch to press buttons - you desperately need specialized, tailor-made food.

That food comes with ?caffeine, taurine, ginseng and lysine -- a powerful quartet of ingredients.? Ridiculous, right? Just wait for the names: Cashews of Chaos (honey roasted cashews), Nuts of Destruction (ancho chili lime-flavored peanuts) and Seeds of Victory (original sunflower seeds). Eight bags of the seeds are $23.99, eight bags of nuts are $25.99 and eight bags of the cashews cost $32.99. To give your non-GamerFood-fueled brain better perspective, that's $3 per bag of the seeds and about $4.12 per bag of the more expensive cashews. At least the prices aren't as ridiculous as the names.

I can't vouch for the taste, but it appears as if GamerFood virgins tested the snacks at IndiCade and ?really, really good? was the overall consensus. And people are never overly enthusiastic like that when free food is on the table. Never.