PSN Is Down News: PS3 gamers were logged out of their accounts, but PlayStation Network has since been restored.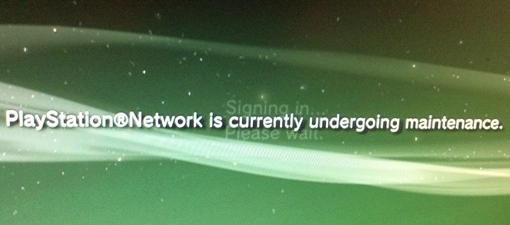 PSN went down this morning, with the first reports of an outage trickling in just before 9:00 AM Pacific Time. However, fears of another hacker-sparked worldwide crash and seven-month-long down time were overblown. This outage lasted five hours - inconvenient as it may have been. As of 2:00 PM, gamers have been able to log back online when Sony's official @PlayStation account notified everyone that PSN's status changed from red to green: ?PSN update: If you encountered issues logging in today, try logging in now. Apologies for the inconvenience!?



A silver-lining of this PSN outage? Sony handled its social media alerts to PS3 fans much better than the April-May catastrophe that took PSN offline for 42 days. ?We're aware that some of you are having issues trying to log into PSN. We're working to resolve the issue, and we'll update you here,? read the company's twitter page at 8:59 this morning. The company has learned a thing or two. That tends to happen when you're brought before congress for your first mistake.

Further proving that Sony knows how to handle a crisis better this time, @PlayStationEU twitter account gave wanting gamers an real-time progress report: ?Current indications are that we'll be restoring PlayStation Network services in approx. two hours. We appreciate your patience.? The approximate time-window in which the servers would be fixed and back online was much appreciated with new games like Resident Evil 4 available in the PlayStation Store that was also down.

Gaming Target will keep you up to date on the status of PlayStation Network, whether it stays healthy or experiences another fail whale that brings PSN down again.