Batman: Arkham City News: Leading up to Batman: Arkham City's October 18 release date on Xbox 360, PS3 and PC, Warner Bros. is revealing another villain, this time: Mr. Freeze.

Batman: Arkham City Mr. Freeze YouTube reveal trailer video is below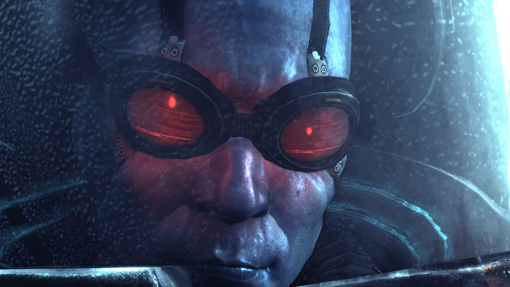 Mr. Freeze was just thawed-out in a new Batman: Arkham City reveal trailer from Warner Bros Interactive and developer Rocksteady Games, and he's much different than the hokey 90s Arnold Schwarzenegger version of the iceman cometh. Sure, this game's take on Dr. Victor Fries, aka Mr. Freeze, still has no hair, packs a powerful freeze gun and whines about his departed wife Nora. However, with his clunk suit and slow maneuverability, Freeze's entire getup looks closer to a BioShock Big Daddy enemy than the original comic book villain.
But it's hard to say for sure. Just 40 seconds of this 90-second-reveal YouTube trailer actually "reveals" what Mr. Freeze looks like during the gameplay. The rest of that time is used for suspense, logos and annoying copyright information.
One thing that is clear is facing him as Batman will not only require avoiding his freeze gun, but also the environment that he uses around him. From under his helmet, Freeze mutters, "You are in my world now Batman," and proceeds to consume parts of the level in ice as a way to attack the Dark Knight. This results in Batman slipping and sliding all over the place - you'd think that his suit's boots would have better traction than that.
We'll find out how well Batman can stand the cold when the bat signal for Arkham City's release date shines on October 18 on Xbox 360, PS3 and PC.