SDCC Top 10: The voice of Batman and the voice of The Joker spend ample time talking about their days voicing Batman TAS, one of the greatest superhero cartoons.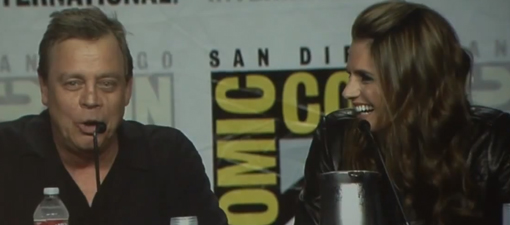 Switching from one franchise that involved Mark Hamill in the past to another that includes him (as the voice of The Joker) in the current cast, we thought Batman Arkham City panel was the best of Comic-Con 2011. It revealed that actress Stana Katic, who you might know from ABC's Castle, will be voicing the part of Talia al Ghul in the October 18-scheduled game. While that announcement was noteworthy, it was the rest of the cast's reflection of recording sessions for Batman cartoons during various LA disasters that stole the panel.



Stana Katic certainly didn't start off by saying much about her Batman-love-interest character, but she chimed in during a fantastic story at just the right time. At 11:30 into the YouTube video, voice of Batman Kevin Conroy talks about how Warner Bros didn't cancel a Batman: The Animated Series recording session in the midst of the 1992 LA Riots. As he's driving into the smoldering city as the rest of Hollywood's population is evacuating, he wonders aloud ?Why am I driving the wrong way?? Katic quips, ?Because you're Batman!?

Mark Hamill follows up with two great stories, the first about another ?still-on? recording session following the 1994 Northridge Earthquake (by then, the cartoon series was called The Adventures of Batman & Robin) and another fire-filled story in which his neighborhood was evacuated and went up in flames.

The only unfortunate thing about the Batman-filled casts' story-filled discussion is that their memorable panel happened to be one of Comic-Con's shortest.