SDCC Top 10: The list of fighter in Ultimate MvC3 was revealed at Comic-Con 2011 partially through official Capcom news channels and partially through a leak.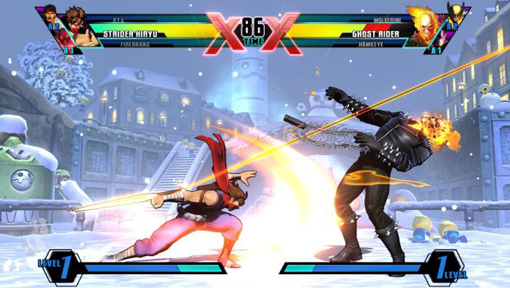 Capcom is adding 12 fighters to its MvC3 roster in an all-new disc-based game, Ultimate Marvel vs Capcom 3. The first four of twelve were announced at Comic-Con as Ghost Rider and Hawkeye on the Marvel side and Firebrand and Strider on the Capcom side. Leaks have outed the remainder of the twelve as: Nova, Dr. Strange, Iron Fist, and Rocket Raccoon fighting for Marvel and Phoenix Wright, Dead Rising's Frank West, Devil May Cry's Virgil, Resident Evil's Nemesis for Capcom.



Although the vanilla MvC3 game released not too long ago (in February), this November-bound updated version comes at a budget price $39.99 on Xbox 360 and PS3. Best of all, there'll be tweaked gameplay for superior balance and new modes, including the much-needed spectator mode for online tournament-style gawkers.