SDCC Top 10: The most authentic cosplay accessory at San Diego Comic-Con 2011 was the Sam Shepard N7 assault rifle by Harrison Krix. Mass Effect 3 fans take note.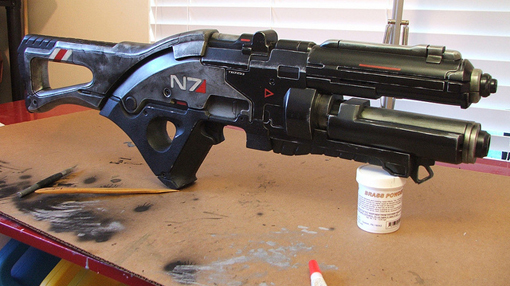 Comic-Con is one of the few non-gun show expos in which bringing a weapon is acceptable and, this year, no gun was more badass than the homemade Mass Effect 3 N7 assault rifle replica by Harrison Krix. Bioware actually asked this full-time graphic designer and spare-time prop replicator to put create this previously unannounced assault rifle in the style of the game's existing N7 pistol, shotgun, sniper rifle and SMG. In addition to making the ultimate accessory for any Sam Shepard cosplay, Krix documented the building process on his blog. The DIYer in you can following the text and ample amount of photos in an attempt to replicate the replica.



The Legendary Pictures-helmed Mass Effect movie panel from this year's SDCC didn't make it into our the top 10 since the only YouTube video of the discuss is short, taken at a low resolution and hard to hear at times. But we did embed the only existing YouTube video of the ten-minute roundtable below. It includes game creator Casey Hudson and screen writer Mark Protosevich as well as a new Comic-Con trailer for Mass Effect 3.