News: Child of Eden for PS3 will be half price in Europe on its September 20 release date, but will controversially set back American fans the full $49.99.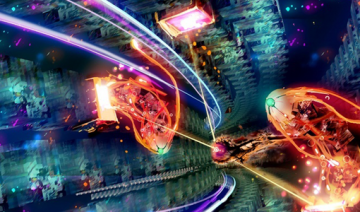 Child of Eden is coming to the PS3 on September 20 at half the retail price of the Xbox 360 version, but so far only in Europe. This spiritual successor to Dreamcast classic, Rez, released for Xbox 360 in June to very positive reviews but relatively poor sales. The game was hailed as a reason to finally purchase the Kinect peripheral but has also been praised for its use of the standard controller.

Ubisoft made a brief announcement that Child of Eden will retail at ?19.99 in Europe and ?19.99 in the UK and is listed on the publisher's own online store. This has led to speculation that the game will arrive in US stores at an equivalent $29.99, but this has yet to be confirmed. Currently, the US version is slated for a price tag of $49.99. It is hard to believe that the game will sell very well in the States with this double price tag, especially with the 360 version likely to come down in price to match the rival system.

The PS3 version will obviously not feature Kinect support, but will have Playstation Move features. Child of Eden creator Tetsuya Mizuguchi is best known as the man who designed the legendary Sega Rally for Arcade and Sega Saturn, arguably the 32-bit system's best game. In recent years he has been responsible for Lumines! and Ninety Nine Nights. His Q! Entertainment team have spent nearly two years on Child of Eden, which has been criminally overlooked by consumers and is a hidden gem in this year's gaming line-up. Perhaps at this new price point the game will gather the attention is deserves. In Europe at least.