Casual Games News: Electronic Arts acquires Seattle-based PopCap Games, further adding to its reach in the casual games space.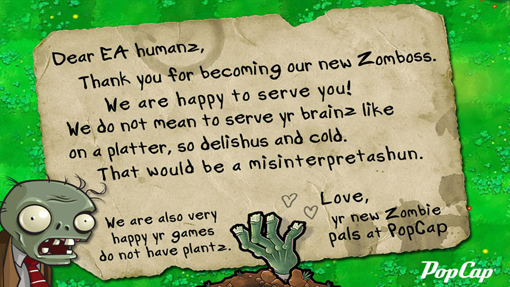 Late last month, it was reported that Bejeweled and Plants vs. Zombies developer PopCap Games would be bought by an unnamed company for more than $1 billion. It turns out that Electronic Arts is that big spender, shelling out more than $650 million in cash, $100 million in stock and additional earn-out money, up to $550 million dependant on revenues through December 2013. That sum pegs the sale at as much as $1.3 billion.

Of course, PopCap Games could net zero earn-out money if its revenues fall flat, meaning it'd be stuck with just $750 million in cash and stock. EA broke down the two-year cumulative earn-out: $550 million paid to PopCap stockholders if revenues are $343 million or more, $275 million paid if the developer brings in at least $200 million, or $100 million paid if it does $110 million in business by the end of 2013. At $91 or less, there's no earn-out money to be had.

"We picked EA because they have recast their culture around making great digital games," said David Roberts, CEO of PopCap. "By working with EA, we'll scale our games and services to deliver more social, mobile, casual fun to an even bigger, global audience."

The move by EA shores up its presence in the competitive casual games space, which the publisher defines as ?high growth digital platforms? like Facebook, RenRen, Google, iPhone, iPad and Android. PopCap Games happens to be a leader in each one of these non-traditional gaming sectors, earning more than $100 million in total revenue in 2010.

?EA and PopCap are a compelling combination,? said EA CEO John Riccitiello. ?PopCap's great studio talent and powerful IP add to EA's momentum and accelerate our drive towards a $1 billion digital business. EA's global studio and publishing network will help PopCap rapidly expand their business to more digital devices, more countries, and more channels.?

The Seattle-based casual games company was founded in 2000 and currently consists of about 400 employees. In 2006, it signed a deal with fellow Washington state game developer Valve so that its flash games could be distributed on Valve's Steam PC and Mac service. Given EA and Valve's rocky relationship (At E3, EA unveiled a Steam distribution competitor it calls Origin), we'll see how much longer the ink on that neighborly partnership agreement lasts.