Monday Morning News: "Through July" in this case actually means every last minute of July. Sony is starting to catch on.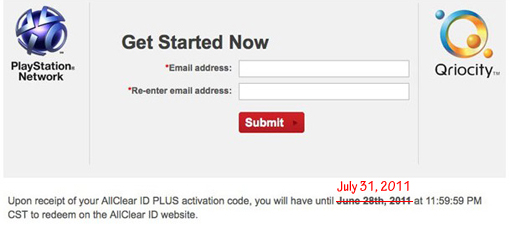 Remember the PSN outage that took PS3s offline for 24 days or the PS Store to close up shop for 42 days? Remember Sony's offer of a year of free identity-theft protection, which you're just now realizing that you forgot to register for prior to the June 28 deadline? There's good news for all procrastinating players out. The gift-giving video game company is extending its offer for AllClear ID through the end of July.



This Debix-provided protection program is supposed to alert you when and if intrusions occur, come with identity theft insurance and include hands-on help from expert fraud investigators. Registration requires having had a PSN account prior to April 20 (when PSN went down) and remembering the email you that registered your PSN account with (always the hardest part). Entering your email address twice on the

AllClear ID registration

page is step one of one.

through prep.

up to and

including

(a particular point in an ordered sequence):

they will be in town from March 24 through May 7.

Sony spelled out that this "through the end of July" extension means July 31st, 2011 at 11:59:59 PM. Previously, the video game publisher had a hard time determining what the word "through" meant when it offered

PSN's "Welcome Back" game package

"through July 3," which initially ended midday on July 3... and then company spokespeople whined about people getting up in arms about the 12-hour inconsistency. After Sony came to its senses, the company extended the "Welcome Back" package deadline to July 5 at 9 PM Pacific, allowing gamers who were busy prepping for and celebrating July 4th to have nine hours to download games like the original

inFamous

and

Super Stardust HD

. For a company in big trouble with trust already, this was the right move. Extending registration for the identity-theft protection service is an even better decision.