E3 2011 News: Halo Anniversary dons new graphics and Xbox Live-supported multiplayer, but hell, all we care about is the return of the overpowered Halo 1 pistol.

Halo remake video is below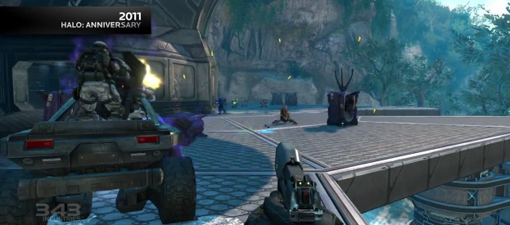 The Halo 1 pistol is back. Yes folks, you'll be able to take out elites with three shots to the head from the other side of the ring once again.
Halo Anniversary
's campaign is going to play exactly as it did in all its classic glory with stunning, ultra-modern graphics the only difference to the experience. What 343 Industries has taken as its philosophy is to literally run Halo Anniversary on the same game engine as
Halo: Combat Evolved
was released on in 2001 on the original Xbox. They want players to flip the Warthogs with grenades and do all the crazy stuff from before all over again without changing a thing. To that point, co-op is confirmed for the Halo remake along with multiplayer matches - but now both will finally feature online gameplay, a sorely missed service during the pre-Xbox Live days.
Except the graphics, of course. Much of what we know and love is the same in the graphical direction. The environments will be the exact shape and size as before, just touched up considerably with beautiful enhancements, effects, better textures and sprites and, of course, HD. Some aspects of the campaign, such as the long-criticized Library level, will remain the same as before but with more variety to the furnishings and textures to remove some of the geometry repetition from the experience.
Also promised by 343 is that six of the seven maps included in Halo Anniversary are lifted directly from Halo 1's original run, with one new map designed specifically for Firefight. These multiplayer aspects of Halo Anniversary will run in the Halo: Reach engine. This news has divided fans, with many Halo purists complaining that Matchmaking and game types in Halo: Reach are not as refined as those found in Halo 2 and Halo 3. Franchise director Frank O'Connor has promised that any concerns fans have about these aspects of the Reach element in Halo Anniversary need not worry and that 343 are working on making the multiplayer functions to the specifications wanted by the fans themselves.
You can find out if his promises are real on the November 15 release date for Halo: Combat Evolved Anniversary, on the 10th anniversary of Halo 1.