Xbox 360, PS3, PC Beta News: The BF3 beta releases in 3 months, and while signing-up will surely come in a variety of ways, we're here to remind MoH owners they the first shot.

Click here for the BF3 E3 2011 gameplay trailer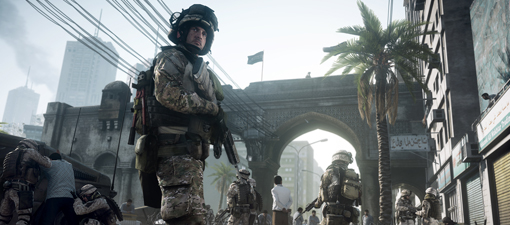 One of the best E3 2011 hands-on demos was
Battlefield 3
at EA's always-lively booth. There, we got a chance to play a round of online multiplayer, more than four months before the October 25 Battlefield 3 release date. We bet you're amped too, especially after seeing the
BF3 E3 2011 gameplay trailer
. You too can partake in a BF3 beta, which is going to be made available a month in advance in early September, according to EA.
All of the ways to sign up for the BF3 beta haven't been revealed. However, if you held onto your copy of last year's
Medal of Honor
and it's the Limited Edition version of the game for PS3, Xbox 360 or the PC, then you're in luck. So far, that's the only confirmed way to enter the beta on the first day of its availability.
Didn't snag a MoH LE copy in time? EA is bound to hold multiple giveaways for beta keys on its
official
Twitter and Facebook pages as well as give members of the EA Gun Club access, as per usual. However, be very cautious about which sites you attempt to obtain BF3 beta keys from. There are a number of dubious scam websites out there that are looking for data or, worse, money in exchange for early beta key access. Keep in mind two things: the beta keys aren't available just yet and you should never have to pay for beta keys, period. Some would say that having to buy the panned MoH 2010 game is a high enough price, but that's a different story.
Stick with
Gaming Target
, and we'll let you know exactly when the BF3 beta is about to see action. We'll post a news story just like this one when the time comes. See you in September.