E3 2011 Trailer News: How does Kinect work for Mass Effect 3. We found out at E3 2011 during the Microsoft Xbox Press Conference and have a video demo.

Mass Effect E3 2011 trailer video is below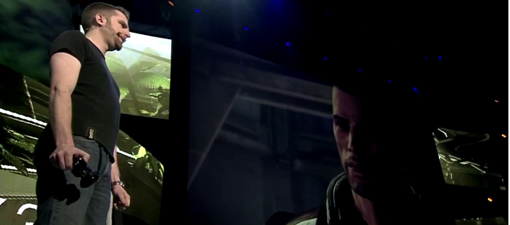 An exciting Mass Effect 3 demo was shown off by the team from BioWare during the Microsoft Xbox E3 2011 Press Conference, a media event that focused heavily on the Kinect. Mass Effect 3 was no exception and, to that point, this trilogy-ending game uses voice-controlled commands via the camera accessory, giving the Xbox 360 an exclusive feature vs the PS3 and PC versions of Mass Effect 3. No solid release date has been given for any version of the game, but publisher EA has it penciled in for early 2012.
Claiming Mass Effect 3 to be "the best Mass Effect game," Bioware said that it's about "kick-ass action, choices with consequence... and takes that immersion to a higher level with Kinect and voice recognition." The demo featured a scene in which Commander Shepard and fan favorite Mordin Solis are searching for somebody who turns out to be a female Krogan. Fans of the series will know that the Krogan race are dying out and have no means of reproduction, so the revelation that there is a female of the species still alive is a major plot development for the story. Also confirmed in the demo was the appearance of Liara T'soni as a playable squad member.
When it came time to demo the voice recognition, the showcased Kinect functionality allowed the demoer to control his squad by issuing commands like "move up" to get his combat partners to change position for tactical advantage. The game's conversation sections can also run through Kinect. Speaking the conversation choice instead of selecting it with the game controller is an option if players wish to use the Kinect. We never found the controller to be difficult in this situation, but like the idea of squad commands. Thankfully, Kinect usage does not extend to the player controls for Shepard, who is still maneuvered with a regular Xbox 360 controller. Fans of the traditional form of control have nothing to fear - Mass Effect 3 will still play perfectly without Kinect.