PSN Welcome Back Package News: Which Welcome Back games are best if you're a PS3 owner? We tell you and help you get the most out of your PSN outage reparations.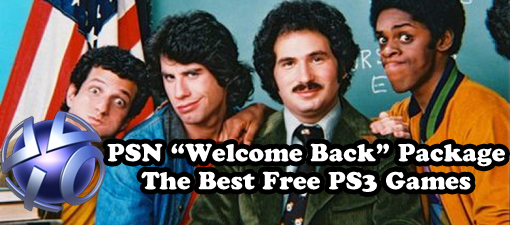 The PSN Welcome Back package is Sony'??s way of apologizing for PS3 and PSP'??s 24-day online outage, which is a gesture that means even more to gamers than the few minutes that Jack Trenton spent artfully saying sorry at Sony'??s E3 Press Conference. Everything is wrapped-up in a nice little PlayStation Store package, but one questions remains: Which two of the five available free PS3 games are best from the Welcome Back selection? Let'??s analyze each game in the Welcome Back package to determine the value of the titles.



LittleBigPlanet

is the PS3's major original IP to combat the likes of Super Mario Galaxy. It's a platform title, but one that lets you modify every aspect of it as you play and share unique levels and creations online in real time. The principle is very simple, it's a game where you navigate your Sackboy character through a 2D world over 3 planes of depth from one point to another using jumping, running and a whole host of creative inventions built up from an array of gadgets and tools found throughout the game world. Of all the Welcome Back titles available, LBP is clearly the most well received of the bunch with multiple Game of the Year awards and an impressive Metacritic score of 95 making it one of the best reviewed games of this generation.

infamous

was released in May 2009, just as Sony announced the dramatic price-cut to the PS3 that increased sales exponentially. It was the game I got with my PS3 at the time and certainly one of my favorites on the system to this day. Reviews were strong for the game, with a Metacritic score of 85 making it pretty much critically acclaimed. It's an open world action adventure title with a huge inspiration taken from superhero comics and sandbox titles like Grand Theft Auto. Of all the Welcome Back titles, it's the most gamer-orientated choice and certainly the longest of the titles on offer.

Dead Nation

is a PSN title, only available on download and is a top-down viewed action game that plays like Geometry Wars but with Zombies. You control a character with a gun, which can be changed or modified, and must survive and fight your way through waves of undead enemies to get to the next section of the game. It's a lengthy title with an enjoyable two-player co-op mode playable online (now that it's back!) and with a Metacritic score of 77 ranging from 100 to 40 it seems to be an acquired taste and certainly not one for everybody.

With a Metacritic score of 89,

Wipeout HD Fury

brings the original PlayStation's most iconic series into the future with stunning HD visuals and unrivaled high-speed gameplay. Racing fans from all over the world are united in their love of all things Wipeout and this version of the game is the best in the series, better even than the legendary Wipeout 2097. There is a steady learning curve, with simple races building up your response time to finally tackle the challenge of the Rapier and Phantom speeds. The Fury expansion comes included in this Welcome Back deal and in itself is the size of a full game.

Super Stardust HD

has its fans, but to me has always felt like a game trying to rival the Xbox 360 Arcade classic, Geometry Wars. It uses the same control system and features similar elaborate neon futuristic visuals in the same space combat setting and despite a Metacritic score of 85 and a wrap-around 3D environment, feels flat compared to its XBLA rival. Super Stardust HD is also nearly 4 years old and you can find almost identical games for free online on your PC to play anytime. For me, this game is a definite NO option for the Welcome Back offer for all players.

So what are the YES options? Frankly, you'd be insane not to immediately choose Wipeout HD Fury. Of all the games released on PS3 over the last four or five years, this is in my top five without question. Fans of the racing genre love it, fans of driving-combat titles swear by it and everybody must be in love with the art direction and future vehicle concept that this game is centered on.

I would avoid Dead Nation and Super Stardust HD, partly because of the fact that they are cheaper, downloadable titles you might be able to try for free later down the line, and mostly because they don't come anywhere near the quality of the other 3 games. Out of LittleBigPlanet and inFamous, I think the decision lies in what you want out of the game and what type of games you like to play. LBP is family friendly and light but with a layer of devilish complexity. It also has that replay value of making your own levels on the fly and always having user generated DLC to try. Its downside is that with LBP2 out now, most of the main contributors to the LBP universe have upgraded. With inFamous, you're looking at a more mature title with a linear enough story set in an open world. It's trigger happy and filled with comic-book-violence and has an engrossing campaign that you will likely play through twice to experience the game as a hero and a villain. With inFamous 2 just out now, if you haven't played the original, it's definitely worth a go.

If forced to choose two of the three big titles, I'd recommend inFamous and Wipeout HD Fury, but there is no real wrong option here. Sony has chosen wisely. Also, be sure to grab that PlayStation Plus subscription. It gives you a 30-day taste of discounts on a wide range of downloadable games and items along with access to an ever-changing array of free classic games, demos and trials. You'll also get the full version Burnout Paradise for a limited time, which is better than almost all of the games offered in the main Welcome Back package.