BioShock Infinite E3 2011 News: In addition to showing the new BioShock Infinite trailer at the Sony E3 2011 Press Conference, Ken Levine also announced Move support.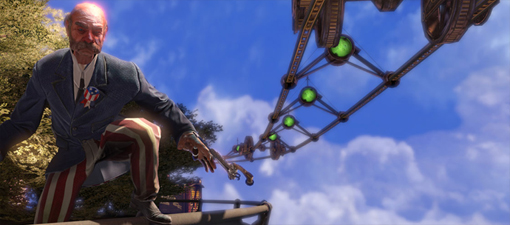 BioShock Infinite, shown off in a PS3 game trailer, had style at the Sony Press Conference this week at E3 2011. It wasn't just the fact that the gameplay footage looked impressive, but mroe so that Irrational Games, the team behind the original and best BioShock, chose the Sony briefing. BioShock 1 was once an Xbox 360 console exclusive.



Featuring a floating city in an alternate past, BioShock Infinite takes influence from Steampunk fiction and futuristic sci-fi. Fans of the Big Daddy are still left waiting to know if those enemies will be in the game, but a similar creature is seen in this E3 2011 trailer.

The PS3 version of BioShock Infinite comes packaged with the original game, which is quite possibly the best free bonus content ever given with a game. The title is also due on Xbox 360 and PC with a release date of 2012.

Ken Levine, the head of Irrational Games and creator of BioShock, came on stage to announce Move support for BioShock Infinite and that the series will spawn an entirely new BioShock title for Sony's just-renamed PlayStation Vita handheld. No gameplay footage of the PS Vita BioShock was shown to the press.