E3 2011 News: Sega has a lot of franchises that we want, and we're hoping that the company still has a few surprises in store for E3 2011. See what we really want.

Aliens Colonial Marines and Binary Domain E3 2011 trailer videos are below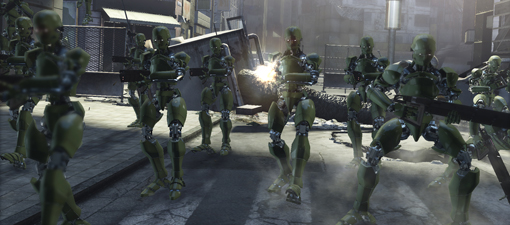 Many of the game announcements for E3 2011 have been revealed ahead of the event next week in Los Angeles. While there are undoubtedly still plenty of secrets that have been kept under wraps, we already know about plenty of the major games due for a full reveal at the expo. In this entry in a series of previews leading up to E3, I'll be focussing on what to expect at E3 from Sega.
Sega has already surprised everyone with the announcement for
Aliens: Colonial Marines
, being touted as a canonical sequel to the movie Aliens. This game should feature prominently at the Sega stalls at E3 2011, where Gaming Target will be touring the playable demos over the next week.
Sega's publishing deal with Platinum Games has been officially extended to include a new fighting game called
Anarchy Reigns
, which is due just after Christmas, so expect a full demo of that at E3 2011, too. There's a good chance that the team will also make reference to
Bayonetta 2
, which is high on wish lists world wide after the first game was one of the shock hits of 2010. If news of the sequel even takes place at this expo, don't expect a Bayonetta 2 release until 2012 at the earliest.
Sonic Team will likely be showcasing the next chapter in
Sonic the Hedgehog 4
. The developer has been hounded by online petitions to re-release
Chu Chu Rocket!
for XBLA and PSN, so there is a
small
chance of this being announced at E3 2011. There are also rumours that Sega Wow Overworks are planning to reveal
Valkyria Chronicles 3
.
Sega is set to surprise people with their new title,
Binary Domain
, which looks very impressive. The title takes heavy inspiration from Gears of War, but reminds us more of the Terminator movies crossed with Vanquish. Sega's own Creative Assembly is likely to announce their new
Total War
game, after the success of Shogun 2.
Yu Suzuki hinted that Sega might finally let him make
Shenmue 3
, and if such an announcement is made at E3 2011, I will enter a forklift race in celebration. As always, the die-hard Sega fans are begging for sequels to
Jet Set Radio
,
Panzer Dragoon Saga
,
Shining Force
and
Skies of Arcadia
, but rather than make these games and thus make an absolute fortune, we are more likely to be left bewildered by something like Sonic & Sega All-Stars Racing.