E3 2011 News: E3 2011 is going to be big for Bethesda, with Elder Scrolls V: Skyrim and id Software's Rage. Fingers crossed for Doom 4 on Xbox 360, PS3, and the PC.

Skyrim, Rage and Prey 2 trailer videos are below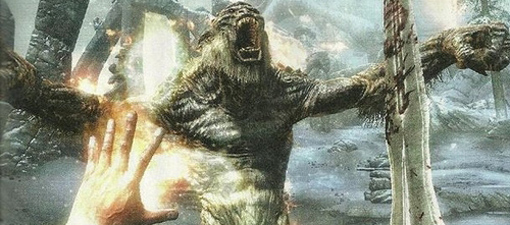 Bethesda Softworks, once an unfamiliar name among mainstream gamers, has gotten more and more popular as a game developer over the years. The Maryland-based company has been responsible for enormous recent success stories like Fallout 3 and Elder Scrolls IV: Oblivion. At E3 2011, its booth will be headlined by the biggest RPG of the year,
The Elder Scrolls V: Skyrim
. There are plenty of details available about Skyrim, such as its symmetrically pleasing 11/11/11 release date and dozens of screenshots all over the Internet. We expect Bethesda to have a large playable demo that will uncover the new magic system and give us a clear indication of what to expect from character development and leveling up, plus the all important combat system. The game is due only days after the Call of Duty: Modern Warfare 3 release date, but it appears that Bethesda is bullish that it can pull off a massively successful launch regardless.
Skyrim is not the only title the videogame publisher has to show off. Its ambitious John Carmack-created
Rage
is one of the most exciting titles announced in some time. The game blends dune buggy high speed chases with FPS gameplay into a kind of Mad Max meets Grand Theft Auto kind of way, but with the classic John Carmack gore level kicked up another notch. There are also RPG elements and the game promises a large array of items and weapons. It is primarily a vehicle combat game, but there is a lot more than meets the eye here.
Bethesda's other id Software title that may make a showing is
Doom 4
, neither a sequel to Doom 3 nor a re-imagining of the series, but rather a modern take on the classic Doom formula. With id busy with Rage, the most we can hope for is a teaser trailer at E3. Another title that we should expect a teaser for is Fallout 4, which Bethesda have repeatedly hinted at being in development since buying the franchise a few years ago.
The other game Bethesda are bringing to E3 2011 is
Prey 2
, a very ambitious sequel to a game that had a Duke Nukem Forever style development cycle that seemed to run on Forever. The title has a release date of mid 2012 penciled in at the moment. What makes the sequel interesting is that your character is basically a bounty hunter on an alien world instead of the hapless hero of the original and the game feels more like Mass Effect or Star Wars than anything resembling the first game. The game promises more of those Portals that were there before Portal and those extra brain-bending gravity tracks again, but Human Head Studios is likely to be showing off a lot more fancy tricks at E3 and could be one of the games to watch in Los Angeles. The very impressive E3 trailer is below.
We'll have more from Bethesda Softworks tomorrow night, right after our E3 appointment with the company.