Halo 4 News: The first big reveal of E3 2011 has happened and Master Chief is confirmed. See the first CGI trailer, minus gameplay video.

Halo 4 trailer video is below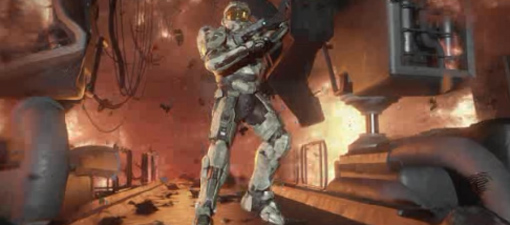 Microsoft's E3 show ended with a showstopping announcement from Don Matrick, Head of the Xbox team and President of Microsoft Entertainment. The 90-minute press conference that featured a vast array of Kinect and third-party titles for Xbox 360 was rounded off by a reveal trailer for
Halo 4
. Matrick announced the game as "the start of a new trilogy for Xbox 360" which
suggests
that the Xbox 360's lifespan will be at least 3-4 more years from now.
Halo 4 follows on directly from the cliffhanger ending of Halo 3 and will finally answer the question of what happens next for Master Chief and Cortana. Fans have been waiting since 2007 for a true sequel to the Xbox's most popular and famous franchise and with a Holiday 2012 release date confirmed by the trailer, the wait is almost over.
The entirely cinematic trailer revealed no gameplay footage, but has hinted at customizable weapons and use of the Spartan jetpack seen in Halo: Reach. This will be the first major Halo game released by 343 Industries, a new team built from the ground up by Microsoft to take over the Halo franchise from original creators Bungie. Bungie has moved on to new projects since the completion of Halo: Reach.
Perhaps even more exciting is the prospect that this game is only the first of a new trilogy of games in the Halo universe, confirmed Halo 5 and Halo 6 in the process. More details on Halo 4 should emerge throughout the week as E3 2011 continues.