Madden NFL Special: This is the second season in a row we're saying "Who Dat?" in response to the Madden NFL cover athlete. Get the skinny on Hillis from Luke Brown.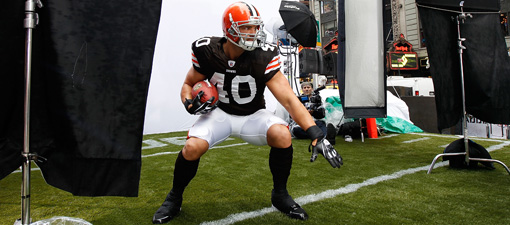 As a football fan, if you look at the end of season stat line 270 carries for 1177 yards and 11 TDs, along with 61 receptions for 477 yards and 2 TDs, you'd know this mystery player had a pretty good season. The numbers aren't all that fantastic. 17 different running backs on 17 different teams broke the thousand-yard rushing mark, and seven of those same running backs also had four hundred or more receiving yards. Whoever this player was certainly didn't have an exceptional year, but he definitely had a solid one. Which begs the question, just how did Peyton Hillis become the cover athlete for Madden NFL 12, a prestige typically given to elite players of the highest order?
Now I don't want you to think for one second that I don't believe Peyton Hillis didn't earn this honor. As a lifelong football fan, and someone who has been on the wrong end of more than one Peyton Hillis fantasy football beat down (he was fourth in total points in both ESPN and CBS standard leagues), I appreciate the man's determination and talent. But before we look at where Peyton is today, we should first take a look back at how this six-foot-tall, 240-pound man became a hero to one of the most tormented NFL franchises in the history of the sport.
Hillis got his start in the NFL with the Denver Broncos in 2008, but to call his relationship with the coaching staffs there for his first two years (Mike Shannahan in 2008, Josh McDaniels in 2009) tenuous would be generous. Despite only garnering just over 80 carries and nearly 400 yards in those two years, Cleveland general manager Mike Holmgren saw something in Hillis, and agreed to trade Denver overvalued quarterback Brady Quinn for the underappreciated runner (along with a few draft picks) in the 2010 off-season.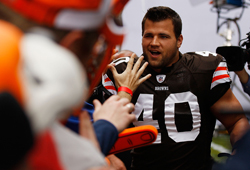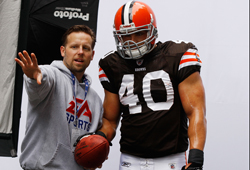 Even though Cleveland traded for Hillis, it still took injuries to incumbent starting back Jerome Harrison, and vaunted rookie back Montario Hardesty, before Hillis was given a real chance to prove his mettle. Hillis proceeded to blow up the vaunted Baltimore Ravens defense for 144 rushing yards and a touchdown. The following week in Cleveland, Hillis marched all over the Cincinnati Bengals in a victory over their division and interstate rivals. The city of Cleveland finally had a player to rally behind, but it wouldn't be until Cleveland's week nine national television match-up against perennial Super Bowl favorites the New England Patriots that the rest of the country would take notice.
Though Hillis was the first Cleveland Browns player to score a touchdown in five consecutive games in more than 30 years, the only people who seemed to notice he was laying waste to opposing defenses were those in Cuyahoga county. The week that Peyton Hillis embarrassed the New England Patriots for 184 rushing yards and 2 touchdowns, his name became synonymous with a punishing style of running. He initiated contact on almost every run, blasting opponents onto their backs with his heavy shoulders. Watching Hillis march up and down the field, shaking defenders off and refusing to fall to the ground, was inspiring. Like the population of the town he now called home, Hillis worked hard for every yard. That type of determination and work ethic wouldn't go unappreciated in Cleveland.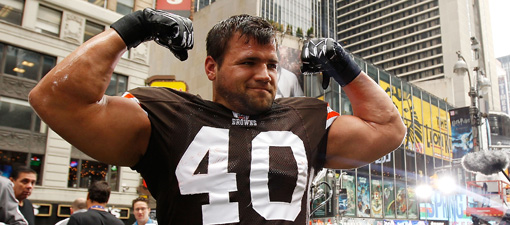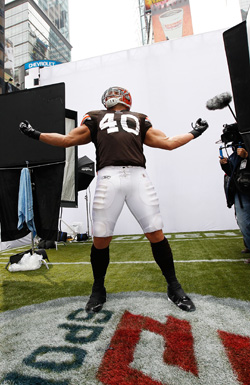 Cleveland Browns football fans are a particularly tortured lot. In 1995, after a calling Cleveland home for more than 45 years, owner Art Modell decided to move the team to Baltimore rather unceremoniously. The final home game at the team's stadium was nearly riotous, with fans vandalizing the complex, and setting fires in the stands. Fans were devastated and it showed. Though it would take another four years for football to return to the Forest City, there would be an entire decade until the Dawg Pound faithful had anything to cheer about. The Browns name is synonymous with failure. The team has had a winning record only twice in the last 20 years. Last year, Peyton Hillis' performance was one of the few bright spots in another otherwise unspectacular year for the Browns.
When Hillis was announced as the Browns representative in the Madden NFL 12 cover vote, the city and team responded by launching a campaign on the Browns' official website, Twitter, and Facebook. Hillis defeated more recognizable and marketable players like Aaron Rodgers, Ray Rice, Matt Ryan, and Jamaal Charles, before topping Michael Vick in the finals. His struggle represents the millions of Americans who work hard every day, while feeling like their efforts go unrecognized or unrewarded. Without the voting support of an entire community of people just like himself, Hillis' unlikely ascent would probably never have happened. It's the first time Madden has attempted something like this, and it's great to see such an underappreciated player get the recognition typically awarded to Super Bowl winners and MVPs. Though it is true Hillis is the first white running back to rush for more than 1000 yards since the mid-80s, race had nothing to do with his success. His hard work, demeanor, and refusal to give up made Hillis the star he is today. That, and millions of votes from loyal fans eager to see a player who's had to fight for every last inch in his career make the cover of what's sure to be one of the highest-selling sports titles of all time.