News: Nintendo's famed designer promises an original 3DS Mario game that's a combination of Super Mario Galaxy and Super Mario 64.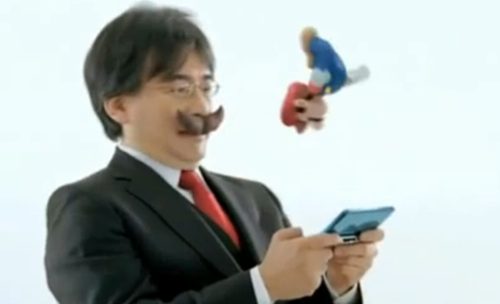 Super Mario Bros. 3DS is coming to Nintendo's newly launched handheld system, but we already knew that. Shigeru Miyamoto let the cat out of the bag late last year when he confirmed that there were
not one, but two Mario 3DS games in development
. Today, the famed Nintendo designer revealed a few more details in London and, according to
Edge Magazine
, he let the audience know that the first of those two games will be out by the year's end.
Miyamoto described the 2011-bound Super Mario Bros. 3DS title as "a combination of Super Mario Galaxy and Super Mario on N64." He went on to promise a playable version of the game at June's videogame expo in Los Angeles, saying, "It won't convey the message if I talk to you today, but if you play it at E3 that will give you more understanding of what I'm talking about."
Right now, Nintendo could use a few Mario games in its 3DS lineup, as the current list of launch window games has been unimpressive. The N64-to-3DS updates of Legend of Zelda: Ocarina of Time and Star Fox 64 are something to look forward to, but this Mario game should be even more noteworthy. Edge Magazine further reports that Miyamoto guaranteed a "completely original, and coming this year." That's exactly what Nintendo 3DS needs at this point.
We'll certainly hold Nintendo to that when we attend E3 2011 right here in Los Angeles in June.