News: Rock Band for Xbox 360, PS3 and Wii is all selling for $20.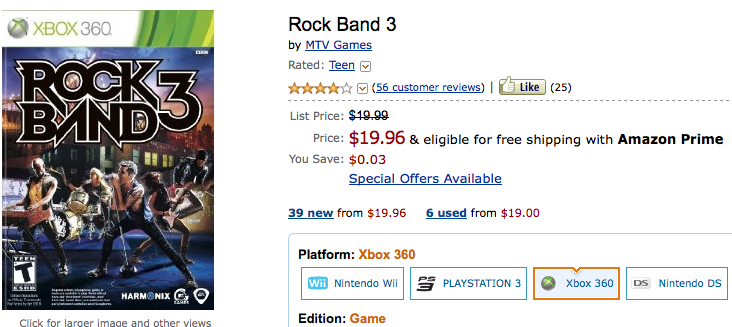 If you were holding out on buying Rock Band 3 so that you could purchase it along with the Squier pro guitar, then dillydallied for an extra month, you just saved yourself $40. The standalone software is now selling for just $20, making the already-reasonable $280 price for the pro guitar seem even more affordable.

The discount extends across all three consoles, the Xbox 360, PS3 and Wii. Although the Nintendo DS wasn't included in the price-cut-focused press release, retailers have been selling this portable edition for less than $20, so it's good news for bargain-hunting digital bands all around. The instrument-included version of Rock Band comes with a 25-key keyboard, but that still sits at $130. Oddly enough, it's now cheaper to buy the $20 game software and the $70-$80 keyboard separately!

Rock Band 3 launched in October of last year and we first got a chance to check out the new instruments at E3 2010. Read up on our keyboard and Squier pro guitar impressions and go out and buy discounted game if you haven't already.