Reviews: New maps + no Bungie still equals fun.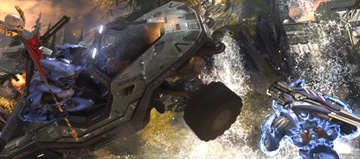 The Defiant Map Pack is notable not only because it is the second and last expansion for Halo: Reach, but mainly because it is the first Halo content not created by Bungie. Yes, the torch has officially been passed on to 343 Industries, who - along with Certain Affinity - created these three new maps. Needless to say, they have a tough act to follow. So how did they do, and is it worth spending your hard-earned 800 Microsoft Points ($10)?
Condemned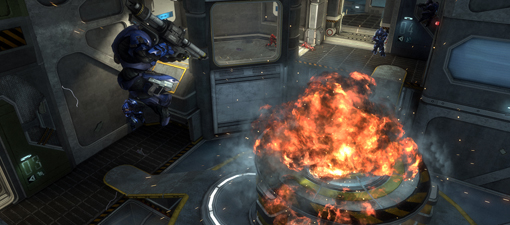 Condemned is a small Slayer map located on a heavily damaged UNSC space station. Seem familiar? Yes, it sounds just like Anchor 9 in the previous Noble Map Pack, but Condemned is considerably different. First, you can't go outside, so those wussies who kept popping in and out of the docking bay shield will actually have to stand and fight this time. Second, the map is basically a big circle rather than the typical Bungie symmetrical design of Anchor 9.
This circular design encourages fast-paced action, as there are very few hiding spots and you can be sure enemies will be coming at you from front and behind. The layout seems confusing at first until you realize it is split into four distinct sections: Communications, Tram Station, Generator and Repair Bay (which features a busted up Sabre fighter). These sections are centered around the Core, a very cool low-gravity silo with a rocket launcher sitting on top of the namesake power core. As you might imagine, the rocket launcher attracts players like flies, and the addition of low gravity (featuring debris floating in the air) makes for some violently fun confrontations. Players can quickly get to any section by cutting through the Core, so you need to keep moving or experience the heartbreak of many painful deaths.
The map is littered with weapons (including a coveted Energy Sword) and chokepoints, so is an absolute delight for fans of intense close quarters combat. The only downside is you won't have time to admire the spectacular view out the window, which features a massive flaming chunk of the station spinning off into space, while a UNSC frigate trades fire with a Covenant corvette, all set against a beautiful nebula. It's gorgeous, and well worth a few deaths to take a good look at it.
Highlands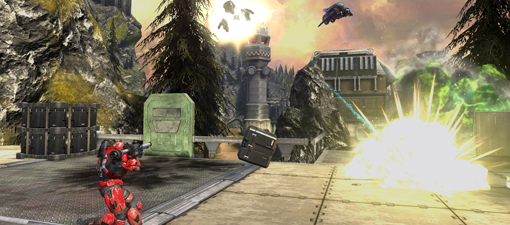 Hardcore Halo fans will recognize this map as the Military Wilderness Training Preserve from the
Fall of Reach
novel. Designed for Big Team Battles and objective-based games, Highlands is
huge
, with two distinct bases on opposite sides of this outdoor map. Big maps mean big open spaces, which mean snipers will be giggling with glee. However, with several buildings, rock formations and trees strategically scattered throughout the map, snipers won't have it easy, and potential victims will have a much better chance of surviving.
Traversing the large environment is made faster thanks to several Warthogs, Mongooses (Mongeese?) and Ghosts, and plenty of drivable space (Rocket Race, anyone?). Various backdoor paths (including a tunnel through the mountain) and several teleporters mean you will always have to watch your back, and must have attentive defenders at your base during objective games. As in Condemned, Highlands is filled with a ton of weapons, including rocket launchers and sniper rifles right in your base, which ensures massive mayhem will ensue.
This is another beautiful map, featuring a waterfall pouring into a hydroelectric facility, and a stream lazily snaking its way across the lush grassy landscape. Fish swim in the water and yes, you can kill them ? though it would be wiser to kill the guy shooting you in the face instead. At the center of the map is a crashed Pelican containing a grenade launcher, a good weapon to have when trying to weed out snipers hiding in the rocks or second floor of the various buildings.
And if you have a chance, look off into the distance and you'll see an uncomfortably close Covenant cruiser glassing the land. Look up and you'll see two more cruisers hovering overhead ? yikes.
If you enjoy big battles and objective games, Highlands is a must-have. It strikes a good balance between vehicle, long-range and close quarters combat, with more weapons than you can shake a grenade at.
Unearthed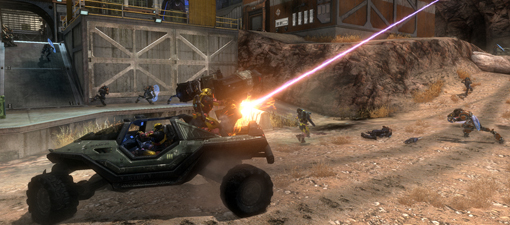 Firefight fans rejoice, for Unearthed was made especially for you. Taking place in a dusty mining facility, this map features several buildings connected by elevated metal catwalks. Keeping the high ground is vital to survival, but with stairways and ramps everywhere, the Covenant can swarm you from all sides if you are not careful.
If you prefer taking the fight to the ground, a Warthog armed with a rocket turret is waiting downstairs from your initial spawn point. Once outside, you'll see that there is a huge amount of open space on either side of the mining facility, but with only one Warthog available, 343 Industries blew a great opportunity to create a great vehicle-filled Firefight map. Heck, even Beachhead has three vehicles, and it has less drivable space. As it stands, all that open space seems like a waste, kind of like in Overlook and Outlook. The addition of just one more vehicle like a Ghost, Revenant or another Warthog would add a ton more fun and replayability to the map. Of course, you can always try and jack the Covenant Ghosts and Wraiths that will eventually pay you a visit, but why not let us have one right at the start? Sure, it might be unbalanced in our favor but heck, this is against the damn Covies, so screw ?em.
Unearthed is a decent Firefight map; not great, but not bad either. Of course, I personally prefer the small, confined maps like Corvette and Courtyard, but those of you who like something more open will definitely enjoy Unearthed. It looks great but not in the eye-popping spectacle as the other maps. The details are more subdued; you can almost feel the dust on your skin, and the open pit mine features some exotic spiky rock formations.