Specials: As Okamiden closes out 3D-less era of Nintendo DS, Matt Swider explores how the series may be 2-for-2 in achieving "system-ending swan song" status.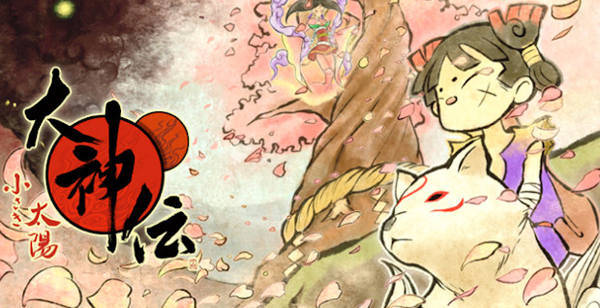 Okamiden is bound to be a system-ending swan song given the timing of this second game in the critically acclaimed Capcom series. Its release date is today, March 15, right up against the 3DS' March 27 launch in North America. As uncanny as it may be, its predecessor, Okami, had a similar fate when it released for PS2 a few weeks shy of PS3's 2006 launch.
?This might be the curse of Okami,? said Capcom Product Manager Eric Monacelli. ?Okamiden has obviously been in development for a while and the 3DS information came out [after that].?
He was quick to point out that the upcoming game will still be playable on the 3DS thanks to backward compatibility and that it looks stunning on the screen of either handheld system. Sure enough, this was evident throughout my Okamiden demo, whether I was blooming color-saturated 3D environments to life or swimming from left to right in a 2D underwater stage, one of the series' new side-scrolling levels.
But backward compatibility might not be enough to thwart the ?Okami curse,? making Okamiden the next big sleeper hit. Remember, all PS3 launch consoles were backward compatible with PS2 games and, likewise, the original Okami looked great on both systems. How about the fact that Nintendo DS is by far this generation's most popular handheld? Could Capcom count on that to break the curse?
Strike three. PS2 was the most popular console of its time and was in almost as many households back then as the Nintendo DS is in gamers' hands now. How about the fact that the 3DS doesn't have triple-A titles like The Legend of Zelda: Ocarina of Time 3D, Mario Kart 3DS and Star Fox 64 3D at launch? Lest you forget about PS3's launch lineup? Besides Resistance: Fall of Man, there were games like Untold Legends: Dark Kingdom, Genji: Days of the Blade and Mobile Suit Gundam: Crossfire.
Okamiden does present one change that could snap this unfortunate trend.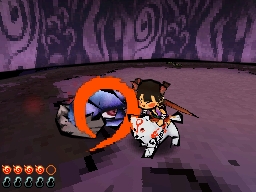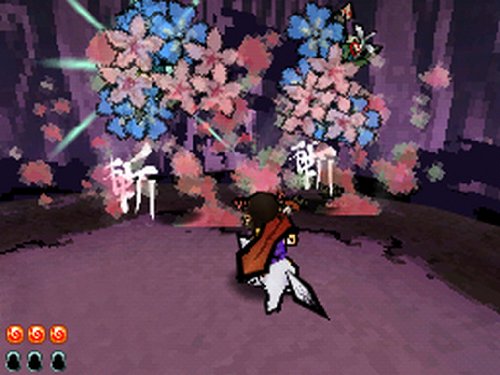 Painting with the Celestial Brush makes the gameplay of this sequel a natural fit on the DS. You actually touch the screen where you want to draw, acting as if the stylus is your brush and the touchscreen your canvas. This more intuitive method of interacting with the game world might be the one thing that clicks with gamers. That was the hope for the motion-controlled Wii port of the PS2 version, but a string of problems with the Wii's motion controls made it inferior to the original. In the case of Okamiden, there's no problematic Wii Sensor Bar to worry about.
?[Capcom] put a lot of work into making it look very authentic and calligraphy is spot on at this size,? Monacelli noted when discussing the series' console-to-handheld conversion. Of course, some changes were in order, starting with the main character, Amaterasu. Originally, the team had put this wolf goddess into the new DS game, but her son, Chibiterasu, eventually replaced her. ?It just made more sense to have this little, cute and unique character and we could actually flesh out the game's storyline and world based on that.?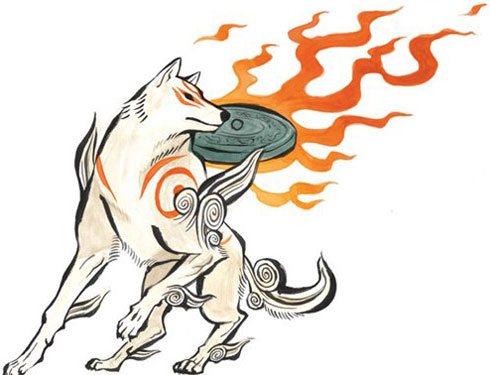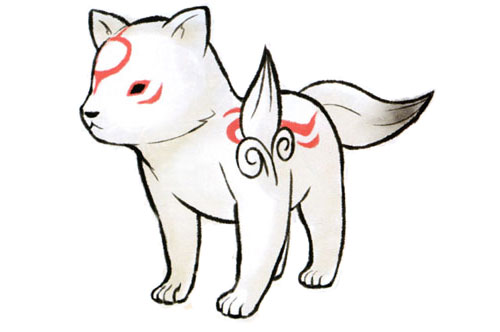 Okami's Amaterasu (left) and Okamiden's Chibiterasu (right)
Chibiterasu, or Chibi for short, is tasked with restoring light and color to a darkened world. But with a tiny, little wolfpup involved, the premise also deals with his coming to grips with his passed-down powers and responsibilities. He'll have assistance along the way, thankfully. This sequel features a partner system in which helpful and, for Chibi's sake, thin children ride on his back and give him a cute nickname like Squiby, Mutt and Dude.
Upon discovering a miniature Sage Shrine that was too big for Chibi to pass through, Nanami, my blue-haired mermaid partner, aided me during this part of my demo? or at least tried to aid me. Throwing her off of Chibi's back with the X button and having her retrieve a distant item by using the guidance brush technique, she didn't quiet follow the trace laid out on the screen.
?Since she's a mermaid on dry land, she's not going to go very far,? Monacelli said. ?But [Guidance is] very helpful for solving puzzles.?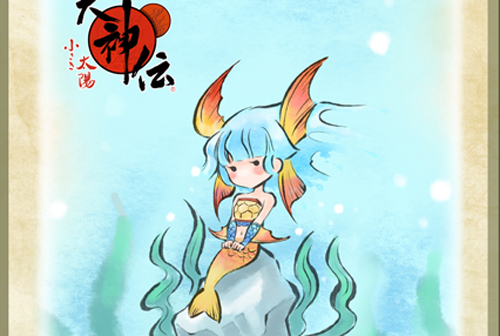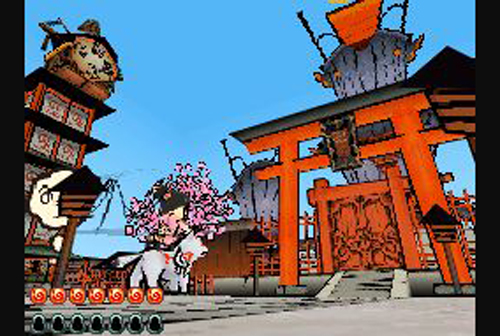 The item that was eventually retrieved was a shell and, upon cracking it open with the bloom technique, I discovered a lucky mallet inside. Monacelli analogized the mallet to Alice in Wonderland's ?Eat Me? cake and ?Drink Me? bottle. Sure enough, Chibi and Nanami shrunk to a size that was ideal for passing through the once-inaccessible Sage Shrine.
?There is a ?No Child Left Behind' policy for the game,? quipped Monacelli. ?So if you try to go to a new stage [without your partner], it won't let you.?
Solving puzzles and using the 12 brush techniques to attack enemies in the 3D world makes up 90% of the game. The other 10% is reserved for the series' new 2D sidescrolling levels. Nanami was still along for the ride, aiding me with her mermaid powers as I swam underwater in what appeared to be a throwback to Super Mario Bros. I was half-tempted to hum the Super Mario Bros. underwater music.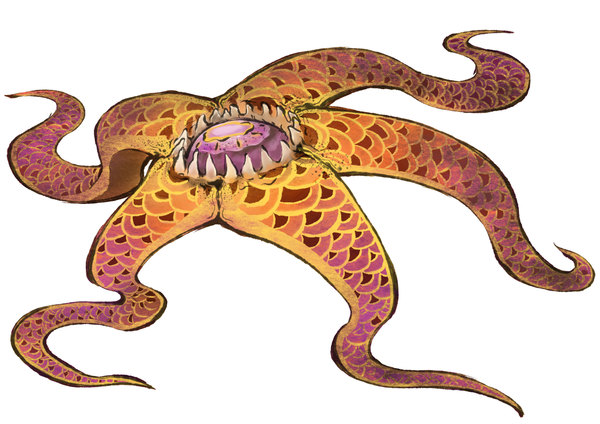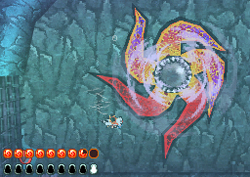 This underwater level led to a boss battle with Asteroidean, a giant starfish with a relentless spinning attack. Monacelli laid out the choices, saying, ?You could slash him to death and it would take you all day long or you could figure out ways to kill him quicker using the brush techniques.? The choice was pretty simple for this thirty-minute demo. Reversing his spin with a loop brush technique, I was able to cut off Asteroidean's five tentacles and he was dead in a couple of minutes. However, there are almost a dozen larger bosses in the game that aren't as easy.
?We sent [Okamiden] into Nintendo for approval,? Monacelli recalled. ?Since the last boss fight can be more than a half an hour, they asked ?Can we please have a video for this?' There's definitely a challenge to this.?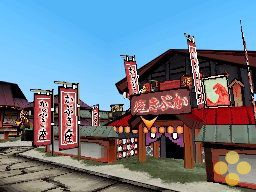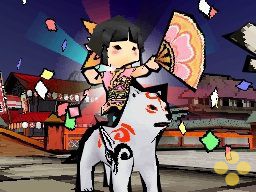 Okamiden has the potential to appeal to an audience that appreciates challenging gameplay, which makes its cute wolfpup character and painting ?attacks? a hard sell no matter how good Capcom makes the final product. This conundrum may be the true source of the ?Okami curse.? Nevertheless, Monacelli pitched this hard sell as a break from the challenging and violent alternatives out there.
?There are so many games out there where you shoot people in the head. This game is about positive themes, it's artistic and it's also about things that aren't about shooting, killing, maiming and murdering.?