News: Big things are on their way in the world of Warhammer: 40K.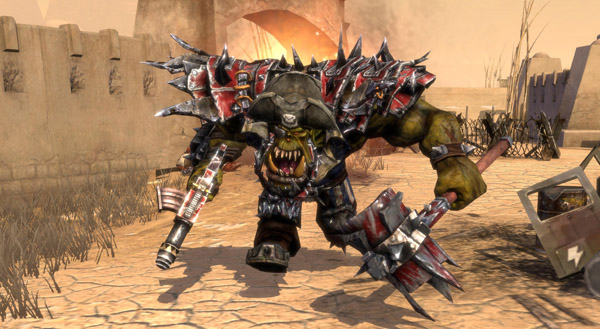 In case you've been under a rock or something, you've got less than 96 hours to jump into the Warhammer 40K: Dawn of War II ? Retribution beta. The Steam-hosted beta allows you to take one of the series' six races for a test drive, including the all-new Imperial Guard. Discovering your preferred race is a must, since placing a pre-order gets you bonus wargear for the race of your choice. Be it the bloodthirsty Orks, the fanatical Space Marines, or the cruel Tyranids, you'll get to amp-up the campaign of your choice. 40K die-hards know this is the first time the Tyranids have had a campaign, so maybe they'd make a fine choice.

If Tyranid is indeed your choice, then you'll need to buy your copy from THQ.com for that bonus. If you want the Ork gear, get it from Steam. No matter where you buy it from, the game can be played through Windows Live or Steam, depending on your taste in Achievements. However you feel about retail exclusive pre-order bonuses, you can't argue with this much game for $29.99. With six campaigns, plus multiplayer madness, Retribution is one hell of a stand-alone expansion. If you're a true blue 40K fan, you might consider the collector's edition. For $39.99, it gets you get all six racial bonuses plus some posters and other high-quality artwork. Either way, there's some serious bang for your gaming buck here.

For a few years now, there's been real turmoil in the RTS world. Age of Empires took themselves out of the game with the ill-received AoE III (Chief developer Shelley even told Kotaku Age of Empires 3 was "a huge mistake"). The Command & Conquer series had a fumble of equal measure with C&C 4: Tiberian Twilight (here's my: C&C 4: Tiberian Twilight review: The Twilight hour of the C&C franchise). While the always-reliable Blizzard hit it out of the park with Starcraft II, enough room was left at the top that players have taken serious notice of rock-solid, former second stringers like Supreme Commander and Warhammer 40K. Well here's to the underdog! Competition breeds consistency, and I say, ?Warhammer 40K, welcome to the big leagues!?

Warhammer 40K: Dawn of War II ? Retribution's release date is March 1, which means you have very little time to pre-order. Don't miss out on free stuff. Put your money down and get ready for the grizzliest, goriest battles on this or any side of the universe. Also, the Warhammer series is looking to dip its toe into the shooter genre. Check out the trailer for Warhammer 40K: Space Marine here: Warhammer 40K: Space Marine Official HD trailer.