News: That's right, Duke Nukem Forever will release on May 3. That's May 3, 2011 for all of the doubters who have been let down in the past.

**Be sure to check out our Duke Nukem Forever hands-on preview from PAX**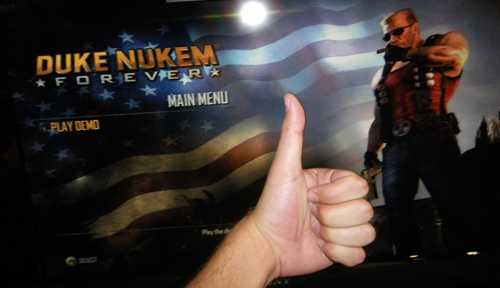 The often-delayed Duke Nukem Forever finally has a final release date. You may have read this type of news post in years past and from 2010 to 1997, it never amounted to a completed sequel to Duke Nukem 3D. However, you won't be let down this year as 2K Games and developer Gearbox Software are behind the 14-year-old project and Duke Nukem Forever will finally see the light of day in 2011.

May, 3, 2011 will make it 14 years and a week since 3D Realms first announced Duke Nukem Forever. As longest game to be in development, it will release on the PC, PS3 and Xbox 360, the latter console being a system that didn't even exist in its original form back in 1997.

?When I said goodbye to 3D Realms and the original Duke Nukem 3D team in 1997 and soon after founded Gearbox Software, I never in my wildest dreams imagined that a day like today would come,? said Randy Pitchford, president of Gearbox Software. "Today I am proud, humbled and even astounded to announce that the day is coming at last for all gamers to be a part of video game history: Duke Nukem Forever will launch worldwide this May!?

Players still in doubt can take on the shades-wearing bad-ass of the video game industry can download a playable demo before by joining the Duke Nukem Forever First Access Club within the Borderlands Game of the Year edition.

For everyone else, we created a "Everything You Need To Know About the New Duke Nukem Forever" guide, which include two gameplay trailers.