News: Perfect for last-minute shopping.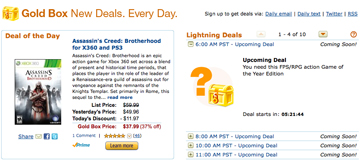 We stumbled upon Amazon.com's video game-filled Gold Box deals while surfing for bargains fit for frugal gamers.

First, Amazon is discounting copies of the recently released Assassin's Creed: Brotherhood for X360 and PS3 as its Deal of the Day. It's selling for $37.99, which a steal for a new game with an MSRP of $60.

Next, Amazon is offering limited-quantity Lighting Deals every hour or two. All times are Eastern and, based on the "hints" provided, these are our best guesses:

09:00 AM: You need this FPS/RPG action Game of the Year Edition:
Borderlands: Game of the Year Edition

11:00 AM: The most complete GTA IV experience possible:
Grand Theft Auto IV: Complete

01:00 PM: This is Tier 1...
Medal of Honor

02:00 PM The perfect handheld console for under the tree
Sony PSP or Nintendo DS bundle

03:00 PM: Groove right along with the King of Pop
Michael Jackson Experience for Wii or DS

06:00 PM: The champion of wrestling franchises
WWE Smackdown vs Raw 2011

08:00 PM: Step into the ring for some mma action
EA Sports MMA or UFC Undisputed 2010

09:00 PM: Protect and defend the innocent against the supernatural
Castlevania: Lords of Shadow

11:00 PM: Rick Taylor and the Terror Mask return
Splatterhouse

12:00 AM: Pac-Man fun for the whole family
Pac-Man Party for Wii


Good luck with all of that last minute holiday shopping.