Review: Warriors, come out to play... your plastic instruments again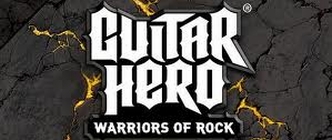 With music gaming far removed from the salad days of 2007, it's no surprise that the two major players in the genre are moving in different directions. While Rock Band 3 has shifted towards realism with Pro Mode and authentic instruments to simulate a true musical experience, Guitar Hero has gone the opposite direction with the sixth mainline game in the series, dubbed Warriors of Rock. In fact, thanks to an attempt at creating some semblance of a story, the addition of power-ups, and heaps of Quick Play challenges for every song in your library, WoR is the most ?gamey? entry in the series since it debuted in 2005. It doesn't always hit the proper notes and the soundtrack can be a bit weird, but it's another solid yet mediocre entry into the franchise that most have come to expect from Neversoft's Guitar Hero games. The genre itself might be in a steep decline, but those who are still around and rocking out should find enough worthwhile to make Warriors of Rock worth a pickup.
The major changes with Warriors of Rock come in both the ?story? mode and the very enhanced Quick Play. In the former, the ?Quest? places you into a silly story involving the Demi-God of Rock being incapacitated, and eight Warriors must rise above the rest to rescue him...or something. It's all rather stupid and made worse by the uber-seriousness of it ? there's unfortunately no hints of sarcasm or parody in any of the cutscenes, narrated by the very bored Gene Simmons of KISS. Anyway, each part of the Quest is split into chapters where you take control of a specific character ? mostly familiar names from Guitar Heroes past, such as Judy Nails, Pandora, and Johnny Napalm ? and play through their suite of tunes. After reaching a certain amount of stars, the character will ?level up?, so to speak, and transform into some kind of supernatural being (you might have seen Lars turn into a pig in screens). More importantly, their latent abilities unlock, making their character-specific powers even stronger. For instance, Casey Lynch has a ?streak guard? ability that lets you miss a note but not lose your score multiplier, and Axel Steel has the ability to ?revive? you mid-song if you fail. By the time you finish the Quest, you'll be able to combine powers Captain Planet-style and earn 40 stars per song.
Quick Play ? now titled Quick Play+ - stays traditional. If you've played either Guitar Hero 5 or Band Hero, the basic setup remains the same. Like those two titles, it recognizes and uses downloadable songs from World Tour onwards, along with whatever you can export from the 26 zillion Guitar Hero games released since 2008... except for Guitar Hero Van Halen (which must have been a horrible fever dream and not, though I swear there was a game with a bass player named Wolfgang somewhere). Anyway, QP+ will likely be your hub for all things Guitar Hero for the next year, especially with the addition of the challenges first introduced in GH5. Every single song in your library ? including DLC and tracks imported from other GH games ? has a challenge for every single instrument. The downside is only the tracks that come on the Warriors of Rock disc have unique challenges; all the DLC and export songs have generic ?star power points,? ?note streak? and ?overall score? goals. Playing through your songs in QP+ earn stars that raise your level like an RPG ? reaching each level unlocks new content such as characters, arenas, instruments, and clothing. It does a fine job of dangling that carrot on a stick ? I'm at level 50-something and new rewards are still unlocking.
While these two adjustments to the usual formula freshen the game up a bit and also give reasons to experiment with other instruments, the gameplay itself is unchanged, and even uses the same engine from Guitar Hero 5. The usual Neversoft style of Guitar Hero is on display, with challenging note charts that may or may not be slightly overdone compared to its competition. This means the usual ?press a colored button and strum? and ?match the color to the corresponding drum? gameplay remains. Without the option of Pro Mode or a new instrument to play, Warriors of Rock sometimes feels like an old one-trick pony that can't quite keep up with the times. It's a pony that still rides if you're a fan of plastic instrument gaming, but the lack of any kind of innovation ? aside from the addition of video gamey power-ups and special abilities in Quest ? makes for a game that will only appeal to those die-hards still playing music games, or perhaps those playing the franchise for the very first time. At this stage in the game, this isn't good enough to keep the formula going for much longer...if it already hasn't fallen off the proverbial cliff after 2009's deluge of Heroes.
Regardless, music games live and die by their soundtrack. Warriors of Rock promised a collection of tunes that skewed towards hard rock and metal, and it has mostly delivered. A few weird ones slipped through the cracks ? while Losing My Religion and Interstate Love Song are classic songs, they're not exactly proper for the motif of the game ? but in general the soundtrack is loaded with classic rock and some solid metal tunes. The game features some pretty interesting choices ? Metallica performing Paranoid with Ozzy Osbourne, a trio of Megadeth tunes (including Holy Wars), and, of course, a very obnoxious Dragonforce selection in the bonus post-game tier. With 90-something tracks, chances are you'll find something to hang your hat on, even if some of the choices skew towards the unknown or one-hit wonders. As Warriors of Rock uses the same engine from Guitar Hero 5, you won't find much of a visual upgrade to compliment the new soundtrack. Hell, you won't find much visual upgrade from Guitar Hero World Tour, given the create-a-character choices are ripped right out of that game.