Review: 13 Years to remake this game? I need a License To Kill Licensing Issues.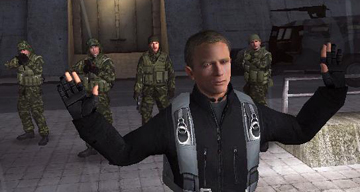 GoldenEye 007 is back and so is my desire to play my dust-collecting Nintendo Wii. As a remake of the hit 1997 first-person shooter on N64, it's unlike the current crop of FPS games, Halo: Reach, Fallout: New Vegas and Call of Duty: Black Ops, which all strive to introduce something new. Instead, what matters here is keeping things old. Activision and developer Eurocom successfully deliver the feeling of nostalgia, while adding the online multiplayer support we dreamed about 13 years ago. They also offer a modern, more robust campaign story that makes sense over its six missions. Even though it's not a shot-for-shot remake due to complicated legal issues, the new GE 007 captures the original's gameplay, which impressively still makes for a fun game in the current generation.
Replacing Pierce Brosnan, Daniel Craig is the face and voice of this GoldenEye 007's James Bond. Heard, but not seen, Judi Dench as M and Rory Kinnear as Bill Tanner join him along with an up to date script by GoldenEye writer Bruce Fierstein. Strangely, that star-studded cast and crew doesn't work their way into the campaign mode's first couple of minutes. An uninteresting set of training objectives lie in the way of the plot... plot-blocks if you will. This flies in the face of legendary Nintendo designer Shigeru Miyamoto's famous rule that the first couple of minutes of a game need to be the most exciting. Call of Duty accomplishes this every year by infusing the training environment with context, chaos and a sense of urgency, as players familiarize themselves with the controls. This game fails to include a Hollywood-caliber introduction and feels more like the old arcade game Police Trainer.
Luckily, the dull training mode bears no resemblance to the actual story-driven missions. The first of six lengthy missions begins in Russia, where Bond and Alec Trevelyan (Agent 006) storm a Russian damn, exactly like the original game. Only this time, 006 isn't an imagined part of the action this time. He's a visible character whose presence helps drive the story and causes it to make sense in video game form for the first time in 13 years.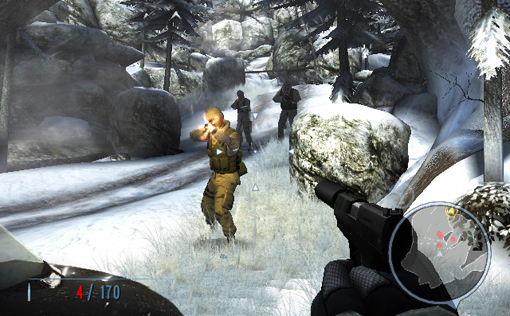 The dialogue between 007 and 006 prevents the new GoldenEye narrative from being choppy, shaken and stirred. However, don't expect any real help from Alec, who is always taking care of his own set of objectives. Bond is still a one-man force, and has to deal with the enhanced AI of this updated game by himself. The soldiers here are no longer slow and dim-witted. Shooting at their limbs from afar and watching them be confused as to what just happened is no longer an option in 2010. They also fall off ledges and cliffs in this day and age. This may not seem like a big technical feat, but you see, the previous GoldenEye was rife with enemy deaths near the platforms' edges in a game without the ability to fall to a lower platform. So, you would see bodies sidle up to a ledge, but awkwardly never fall.
Now, enemies fall in dramatic fashion and even give a solid yell for good measure. You can also drop to lower platforms and jump over railings with a new vault move. This allows Bond to leap over railings with cinematic style whenever you press forward on the analog stick and the main action button in front of a railing or scalable crate. The main action button is either A if you're using the Wii Remote and Nunchuk combo, or B if you've given up and opted for the easier-to-use Classic Controller or GameCube Controller options. Although using the Nunchuk's analog stick is more akin to the 1997 setup, the N64 novelty wears thin when you have to deal with the Wii Remote's motion controls and annoyance of pointing too far from the Wii Sensor Bar. Eurocom included a lot of controller configurations in the menu and Activision even introduced an exclusive Golden Classic Controller Pro, but I'm still half tempted to order four
N64 to Wii/GameCube cables
for the purest GoldenEye 007 memories.
There's a greater emphasis on silently moving through levels, balancing the game's run-and-gun action with slower-paced stealth gameplay. Sadly, the Russian army must have hypersensitive hearing at the top of their enlistment requirements; it's almost impossible to get through an entire level without alerting at least one guard or camera. Unlike Splinter Cell, there's no obvious, drawn-out path to stay cloaked, so you're very much in the dark when it comes to attempting to remain in the dark.
Getting caught never means starting over in this James Bond title, as weapons and gadgets are always at your disposal for when you run into danger. From the trusty woodgrain AK-47 to the splash-damage-happy Rocket Launcher, a lot of gun favorites return along with newer, less meaningful assault rifles. Since this isn't the Rare-developed update we were all hoping for, there's no RC-P90s and there's certainly no chance the Klobb, named after ex-Nintendo, now Microsoft designer Ken Lobb, will make an appearance.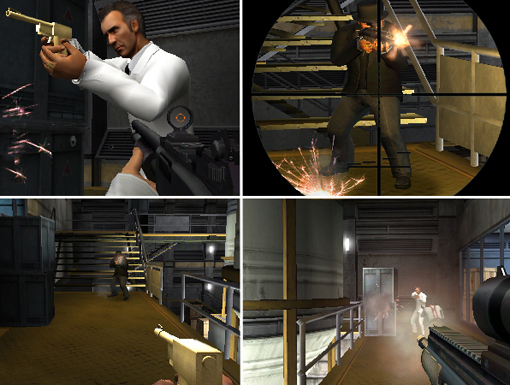 More than the single-player campaign mode, multiplayer was always the popular component of GoldenEye 007 on N64. The case will be no different today because while the new game's six campaign modes are challenging and broken into four difficulty settings, they are finite. Multiplayer can last forever, especially now that it supports online gameplay through the Nintendo Wi-Fi Connection.
Eurocom could've stopped at hosting up to eight players online and called it a day. However, the developer added structured progression to playing online so that not every gun and gadget is immediately available. You have to rank up in order to unlock the more sophisticated gear, including Remote, Timed and Proximity Mines. The same goes for certain game types. Conflict, Team Conflict, Golden Gun, Black Box, GoldenEye, and Heroes are available from the start, but License to Kill, Team License to Kill and Classic Conflict have to be unlocked. Having to earn the loadouts and three of the nine game types brings about a deeper online experience.
Playing on one console limits the player count to four and the game types to Conflict, Team Conflict, Golden Gun and You Only Live Twice. However, it introduces fun modifiers, including Paintball Mode, Hot Shot (for headshots only), and Move Your Feet - a camper's worst nightmare in which stationary players die. Best of all, without a long list of unlockable guns and gadgets, split-screen multiplayer is ready for your high school GoldenEye party reunion.
Missing from this update, sadly, are levels like Complex and Temple, both of which are Rare-developed multiplayer stages, not locations inspired by the GoldenEye film. They weren't included, so that's disappointing, but understandable... to a degree. What's baffling is why more James Bond-licensed music wasn't used here. Nicole Scherzinger (the lead singer of the Pussycat Dolls) does a great rendition of Tina Turner's ?GoldenEye,? but I also wanted to hear the ubiquitous James Bond Theme in the beginning of the campaign mode or throughout the multiplayer mode. Similarly, every time one of my friends dies in multiplayer, I want to hear the dramatic ?Dum di-di dum dum? chime as red blood flows down the screen. The red blood is there, but it's accompanied by awkward silence. Whether or not the developer though this incessant chime was ?annoying? doesn't matter. Keeping the game classic instead of deconstructing part of its charm is their job.