Review: Feed your insidious zombie need.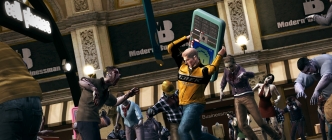 Fortune City: think of it as Las Vegas crossed with the Mall of America. Gambling, shopping...all manner of entertainment is around the corner. But protagonist Chuck Greene has better things to do than grab dinner and take in a show. This commercial Mecca is overrun with acres of flesh-ripping, bone-snapping zombies, and he's got a pair of chainsaws strapped to a kayak paddle. Plus a Super Soaker full of gasoline. And an electric guitar that pops skulls with the power of its rocking. Obviously the latest zombie killfest from Capcom features more than one way to decapitate, electrocute, or immolate a zombie. In fact, there are dozens of ways. But are outrageous combo weapons and an oversized arena enough to reanimate the old mall-full-of -zombies concept?
Next to the aforementioned undead hordes, the biggest hurdle in Dead Rising 2 is time. Chuck has three days before the cavalry arrives and the game ends, which makes everything a race with the clock. Also, missions have an expiration date- take too long and the survivor you're meant to save is zombie lunch. While most assignments are inconsequential, if you let key story missions expire, you won't be able to complete the game. In fact, it's possible to save without enough time to complete an essential mission. On top of that, Chuck's daughter has the zombie affliction (zombitus?). To keep your family tree ghoul-free, you'll need to scrounge up doses of Zombrex to administer every morning.
Keep an eye on your watch and you'll be all right - this may disturb the completists out there, but trying to do everything will give a headache to some, an aneurysm to others. Many gamers will not enjoy the clock watching needed to finish the story. They'll likely stick to the game's greatest pleasure- wading into a sea of dead ones with the biggest, nastiest beating stick you can find. Be it a humble bat full of nails or the combination lawnmower wheelchair, letting players craft said beating sticks only deepens this pleasure. These combinations may be preset, but they're numerous and varied. The game rewards you with Combo Cards which fill you in on possible weapons. If you don't have a weapon's card you can still build it, but the alternate fire will be locked. Still, I encourage players to look up a list online; you're hampering the games most satisfying feature if you don't.
Some people just aren't cut out for the zombie apocalypse. A few survivors have lost it, gone psychotic, and need to be put down. They are the game's bosses, and are not nearly as fun as mincing a crowd of zombies with a lawnmower. Even with an inventory full of vicious weapons and power-ups, these showdowns are slogs. Bosses are strong, overpowered I'd say. Let them get close and it's often game over, followed by a long, zombie-filled walk back to try again. Their inconsistent behavior frustrates; sometimes your attacks stun them, sometimes not, making it impossible to find a working strategy. Do what I did; camp somewhere with plenty of health items, preferably with a lot of obstacles to confuse the boss's crummy pathfinding, and whale on him with ranged weapons until it's over. Then start skipping the boss fights; few of them are required, and none of them are fun (at least the ones I played).
However, what is consistently fun in DR2 is the music, or should I say "muzak." In Fortune City there's no escape from the elevator tunes; swanky swing on the casino floor, New agey Enya-esuqe stuff in the lobbies, and soft jazz most everywhere else. It's all hilariously incongruent against the backdrop of a zombie massacre (although the orchestral rendition of Barry Manilow's ?Can't Smile Without You? is rather blood-curdling). The sound design in general is strong, from the guttural zombie growls to the consistent voice acting. The dialogue is like that of the B movies Dead Rising imitates- terrible- but the cast does their best with the material, even if the lips often fall out of sync with the words.
Off kilter lip-syncing is not DR2's only visual hiccup, the game actually has trouble rendering its trademark masses of zombies. More and more shambling monsters mean fewer and fewer frames per second. Eventually it achieves that nightmarish, running-in-slow-motion feeling, with a legion of the undead on your tail. PS3, the beefiest console on the market, seems to have the least of these frame rate woes, and PC users can at least turn down the detail, but 360 users are out of luck until a patch comes out. That's pretty bad considering the original was an Xbox exclusive. For shame! The game is certainly playable, but the fact that a defining feature chokes it is clumsy.
Another surprising misstep for DR2 is the lack of quality mini-games. While I give them credit for making in-game slot machines that work like real slot machines (insert money, see if you win, repeat), the lack of skill games is disappointing. Everything is either a simple rhythm game or a button masher. For a GTA-style game that takes place in a casino, this is a missed opportunity. Even a player stalwart in his hatred of the undead gets bored with slaughtering them all day. Just a few mini-games with some depth would seriously ease the repetition.
DR2's multiplayer offerings, while definitely not the meat of the game, do help mix things up. There's drop-in, drop-out co-op similar to what Capcom previously did with Resident Evil 5. If you set your game to public (the default setting), random Internet players will ask to join your game. After a quick load you will have a buddy to slay with, and the game is linked with Games for Windows Live for features like a friends list, chat, and mic support. Sadly, co-op has its own set of issues. While playing with an Internet stranger, I was desperate for a Zombrex fix (?It's for my daughter, I swear!?). I dropped the requisite twenty-five grand for a dose- only to have it end up in my partner's inventory. Unable to swap the item, we just looked at each other and sighed. Also, the lack of in-game chat is annoying; you're not going to save anyone's life if you have to call up the Live overlay just to type, ?Behind you!? My recommendation? Get a mic, and put your wallet away whilst co-oping.
The game's true multiplayer mode would be Terror is Reality, a faux reality show where contestants (you and four other matched players) kill zombies in amusing ways for game cash that can be used in single player. There is Zomboni, where players drive zombie-grinding vehicles, collecting blood to spray at targets. In Headache, players drop blenders on undead heads, and race for the button to switch them on. There is a target practice game, where zombies appear on a Hollywood Squares-like board and players gun them down. Then there's my personal favorite, Slicecycles, where players pilot motorcycles fitted with chainsaws for some drive-by disembowelment. Terror is Reality is the freshest thing in DR2, but the small number of mini-games keeps it from being more than an afterthought. If there were only ten modes, and the ability to choose which one you wanted to play - instead of being forced to play them all in the same order every time - we'd have something like a goretastic Mario Party. Instead, we have a fun but under-realized mode that will hopefully have a bigger part in the inevitable Dead Rising 3.