News: Just in time for Christmas.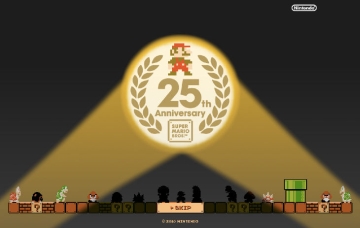 Over the last few week's, Super Mario's 25th anniversary celebration has traveled west starting in Japan, moving on to Europe and now, finally, landing in America. This morning, Nintendo announced that Super Mario All-Stars will be re-released on the Wii on December 12.

Originally released on the Super NES in 1993, Super Mario All-Stars featured 16-bit remakes of the four Super Mario games that appeared on the NES: Super Mario Bros., Super Mario Bros.: The Lost Levels, Super Mario Bros. 2 and Super Mario Bros. 3. The Wii remake will be unchanged from the SNES original, so it'll carry a budget price of $29.99.

The package will also feature all of the same extras included in the Japanese and European releases. These extras include the Super Mario History soundtrack CD (which contains music from the entire Mario franchise) and a Super Mario History booklet that includes a behind-the-scenes look at Mario's rise to video game icon:


Fans from every generation can enjoy firsthand insights into the beginnings of Mario, illustrated with candid photos and never-before-seen design sketches. Together with the game software and soundtrack, it's the ultimate tribute to a unique game series.


Mario fans can get even more about Super Mario's 25th anniversary at Nintendo's official site at mario25.nintendo.com.