Hands-On Preview: But there hasn't been a new Evil Dead movie in almost 20 years. Who will Duke steal lines from now?
Duke Nukem Forever has been a long time coming. This unfinished odyssey by 3D Realms has become notorious for its perpetually delayed release, and was feared to be shelved, well, Forever in the last year. But Gearbox Software has resurrected the franchise at last, and announced... err, technically reannounced... the long-awaited game at this year's PAX Prime.
The booth itself was shrouded in mystery. The most concealed booth at PAX ? with the longest line and the most rabid fans ? was just a giant black box on the corner of the 2K booth. It was decorated in vintage paintings of Duke himself, ranging from him accepting awards for ?Most Humble? and ?Best Action? to him giving his signature thumbs-up wearing an astronaut suit in space with a patch on the shoulder that said ?Balls of Steel.? Gearbox is obviously continuing the legacy of bawdy humor ? but who would expect less?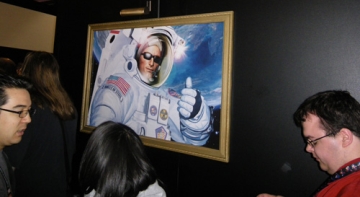 As I stood in line, my anticipation rose from interested to actual anxiety ? wondering what they had in store for us was nearly unbearable. I wasn't sure what to think, given the cult status of the franchise. It had been over a decade since I'd played the over-the-top, undeniably tight multiplayer of Duke Nukem 3D. I was twitching with anticipation.
The tone for the talk was set with the infamous words, ?I don't have a script, ?cause I don't give a f*ck,? being uttered by Randy Pitchford, President of Gearbox. His relaxed, casual air went beyond the typical confident demeanor of an excited game designer who knows he's onto something. There was something else going on here.
I was surprised to see Pitchford sporting the blazer/t-shirt/jeans look (with a new haircut to boot). I have usually seen him relaxed, but with a hint of corporate reservation, and very polite to whomever he was speaking to. But here, he was eagerly pacing back in forth with a wide, irrepressible grin, his enthusiasm emanating from him in bursts of expletives. He explained that he owed his success to The Duke, getting his first real start in the game industry with 3D Realms. The t-shirt he had on under his blazer was a Duke Nukem shirt from 1996. Now with the 2K machine behind him (especially after last year's success with Borderlands), Pitchford is in the position to do the impossible, the inconceivable:
Gearbox is going to save Duke Nukem...
Forever.
?We all need to believe. The Duke needs us to believe in him.? After a poorly-concealed attempt at Rick Rolling us, they were soon showing the trailer. It was chock full of wacky weapons and iconic one-liners, and included a first-person urination scene that went on longer than anyone could have imagined. The trailer sets up the game almost as a metaphor for its infamous development cycle ? this is the story about a hero who vanished. In his absence, aliens have returned to wreak havoc on Earth. The concept is simple; as Pitchford explained ? ?you're going to become Duke Nukem and save the motherf*cking world.?
Before what we had just seen even had time to sink in, we were already being ushered into the next room to play an Xbox 360 demo of the game. As we left, the speakers encouraged us to take pictures of the screen, pose in front of the kiosks, or anything else we wanted. It was made very clear that this event, the reveal, the hands-on at PAX was all meant for the fans. They didn't want to show it to the press, legal teams, and Gamestop employees at E3 ? PAX is for gamers, and this is where they would have the first bite at the apple. It was then that I realized that the presentation was essentially a microcosm of the PAX experience itself.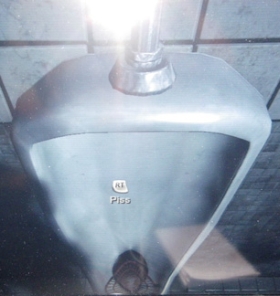 The demo begins in the stalls of the locker room underneath the franchise's symbolic Detonators Stadium. You're immediately confronted with the aforementioned urination scene, which can really go on for as long as you want. It was important for Gearbox to re-establish the humor of the brand and they clearly wasted no time in doing so. You then proceed to walk to the core of the locker room where a SWAT-like team of police are getting pumped to go out and take down some aliens. As they finish up their pep talk and break, you can grab magic markers from the white board and draw anything you want, even being able to switch the colors of the markers. This is Duke Nukem, so obviously the 5th grader in me came out as I tried to draw a phallic representation? Oblivious, the guard next to me complimented me on the play I just drew.
The counter-attack goes awry as the police are ambushed in the hallway before you even get out the door. You can't fight anyone at this point, but the excitement of a modern-day set piece is enjoyed as you watch walls crumble down, aliens and police exchange fire, and you make your way to the surface. When you do, you're greeted at the 50 yard line by a monstrously-sized extraterrestrial. You don the Duke's double rocket launcher and unload at the monster while he returns fire and occasionally charges at you. There is a very limited HUD (non-existent at times), and your health is represented by the ?Ego? meter which regenerates after a time. The police drop more rockets down for you as the fight wears on. Once the beast is felled, a Quick Time Event is initiated in which the Duke rips off one of its horns and its eye pops out. In an ode to his legacy, the Duke casually walks up to the eyeball and launches it over the field goal with a well-placed kick.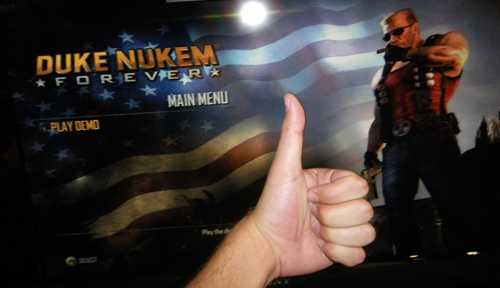 At this point the title screen comes up with fireworks and the American flag. Unexpectedly, the camera begins panning out to reveal the TV screen this all just took place on, and pans further until you realize the player is still in first-person mode again as the Duke, sitting on the couch with an Xbox controller in his hand that you can actually use. As he puts it down, two girls' heads come up from off camera, and one asks if it was ?good for you, baby?? The Duke replies that after all these years, it better be.
After this excellent breaking of the fourth wall, I was taken to the next level which presents the meat of the game. You find yourself in a wasteland, starting in a monster truck driving through a gorge. You round corners running over aliens, dodging boulders, and boosting through straightaways in an almost Motorstorm-esque fashion. Finally the gas gives out, and you have to go on foot. Duke's unorthodox arsenal makes a return as you utilize shrink rays, shotguns, and the Rail Gun Sniper Rifle, which can expand heads upon impact. It felt fun and quite tactical to go at each encounter ? peeking around boulders, climbing up guard towers, and just overall participating in this comical twist on the FPS genre. I would have loved to play more, but before I knew it I was already being ushered away by a booth babe, as they needed to keep rotating players to keep up with what was undoubtedly the longest line wait at PAX this year.