Hands-On Preview: Sorry everybody, but Ghetto Golf is currently on hold.
Our first appointment at PAX Prime was with Illfonic to see their new game, Nexuiz, an upcoming arena FPS for release on the PSN and XBLA this winter. It will be the first game released using the CryEngine 3 ? a fact the 10-man team is very proud of. Originally a PC game developed by Alientrap using the Darkspaces engine, Nexuiz isn't just getting a facelift ? it's getting completely refined. We had a chance to talk to Kedhrin Gonzalez, Creative Director at Illfonic, while getting some hands-on time with the game at PAX Prime.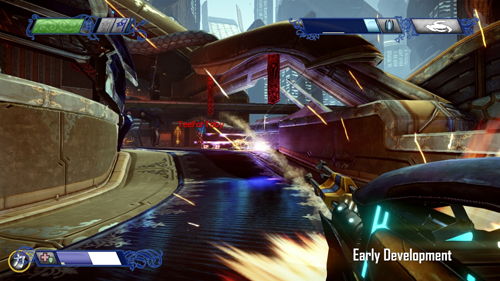 The Kavussari and Forsellians are the two races in this competitive shooter. Their delicate peace established by the Herald Accord is now being threatened, so they've been given a choice ? take their warriors and have them stand off against each other in the arena, or be destroyed. The battle arenas ? called the Nexuiz ? are set on the home planets of the two races, as well as the nature planet Atavirta.
?Our whole vision, our plan with this, was to kind of create a throwback in a way, because really the market for arenas has been dominated by Quake 3 and Unreal Tournament for a long time,? Kedhrin explained to us. What Illfonic is trying to do is create an arena shooter for today's FPS gamer ? for those who play Halo or Call of Duty, those who are into the fast-paced next gen games. The basic idea is to introduce the arena shooter to gamers who may never have gotten to experience them.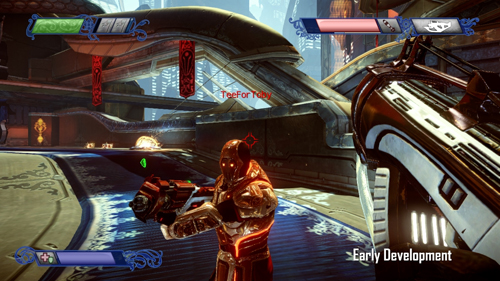 ?At the core mechanics, it still follows with the same fundamentals that make an arena FPS game good: solid mechanics, fast speed, focus on the level design, pick-ups, things like that,? Kedhrin told us. ?But what we also introduced is a new system which isn't in this version, unfortunately, but it's called a Dynamic Mutator System, which, whenever you're getting your kill streak, this thing pops up and you have three choices of what you can do, and they're all random from a massive list, and they're game-changing rules, like Low Gravity, Instagib, things like that. So players are really able to change the course of the match.? This combination of old and new seems like the perfect way to suck in a new generation of FPS fans and convert them to the arena shooter. Players will also enjoy being rewarded ? the more points they get, the more they can put into specific mutators, increasing the likelihood that those will appear. It's also one solid way that Illfonic is making Nexuiz stand out above the crowd.
The tournament system will be integrated and fully automated, and will include a management system for clans as well. The idea is to bring in a system that is fully self-sustained, allowing players to do everything they need in-game without having to go to anywhere external for anything. The game ? set to be priced at $15 ? will launch with Team Deathmatch and Capture the Flag, with more modes coming with DLC. More weapons and dynamic mutators will also be coming, but at launch, there will be nine weapons. Each weapon has primary and secondary fire as well as melee, which definitely changes up the typical arena shooter strategy. Other than multiplayer, the game will also feature offline bot training, with more ideas possible for DLC after launch ? ?depending on what the fans want,? Kedhrin said. There will also be social networking integration, as well as an offline LAN manager built into the game.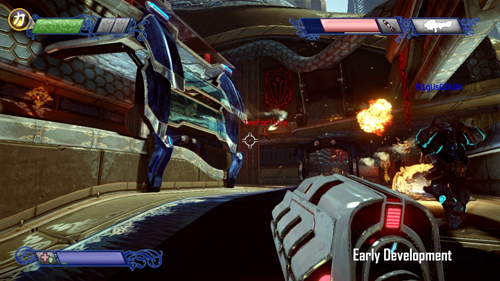 The game will ship with nine levels, with three per faction. The Victorian style of the game is polished and graceful, allowing the player to appreciate the background while loading up an enemy with shotgun blasts. This was all a part of their plan. ?Even though Unreal Tournament III looked amazing, the visuals and the levels sometimes distracted from the gameplay. Characters kind of got lost in the environment, and things like that. So we decided to go with the more simplistic shapes, bigger shapes. One thing you'll notice about pro-Quake 3 players is that they would crank the settings so they could see players from a mile away. So we're trying our hardest to always make sure you're seeing the game rather than lighting and the environment.?
As the flagship studio using the CryEngine 3 ? and the first game to be launching with it ? it's been a great adventure for Illfonic. The Crytek team came to Colorado to train them on how to use it. But they've had some challenges so far. ?With this game, it's actually pretty funny, because we need the gameplay physics to be unrealistic, legs jumping, you know, but CryEngine's physics are so real we had to hack it, take these beautiful physics and just break it, and then bring it back to 1996 physics in a way.?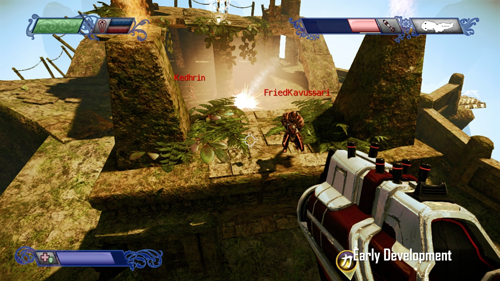 At this point, we got some hands-on time with the game. We got to check out the Rocket Launcher ? with rockets that can be hooked around corners and detonated any time. We also got to check out the Damage Multiplier ? ?we spawn an icon so it creates a dynamic chokepoint so everybody sees it's there and everybody generally will try to rush towards it,? Kedhrin explained. He also touched on the dynamic mutators, of which there will be ?a lot.? He went on to explain the rewards players get for ranking. ?Whenever players rank, we allow them to put a permanent stat adjustment to their profile, like plus five health, things like that. They're not too much to imbalance the game, just little perks.? Not to worry, though ? they'll be doing ?rigorous separation? of players so that those with perks ? and adjusted dynamic mutators ? will be playing against those of equal stature and not constantly killing newcomers.
Kedhrin also touched on the soundtrack, which will be robust. ?We feel music drives a lot of what makes the arena game great, because it keeps the tempo and the adrenaline going. So we definitely want to have a really good soundtrack?it's really cool for all this stuff to come together because CryEngine 3 has such good sound we don't want to suffer it because of a footprint restriction.? Impressively, the theme song was recorded with a 40+ piece string set. The idea was to set up as sharp a contrast between the music as they did with the visuals.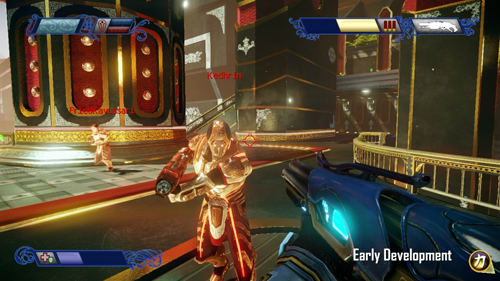 The scoreboard is presented in a cleaner and more creative way ? no boring lists for Nexuiz. Instead of a flat list of columns and scores, it's 3-dimensional and clear, with the teams ? and your position on them ? clearly defined. Trophies and Achievements will be integrated with in-game rewards, keeping the bar raised. But they're not all business ? the fully customizable clan symbols will be ?full of a lot of stupid ones, because we're pretty ridiculous, and we want our players to know that.? The leaderboards, too, will broadcast all kinds of stats ? including who killed themselves the most that day.
But the coolest thing we heard was when Mike asked if there would be auto-aim on the console versions to compensate for the lack of precision PC users will get with a mouse. ?It's going to be pretty rigorous,? Kedhrin said. ?We're going to give players a bonus on the points, a multiplier, like 20% extra,
if
you turn off the auto-aim when you play.? We applauded that. ?We want it to be easy to kill somebody with the controls.?