Special: Thanksgiving ain't got nothin' on this.
Game Feast, Microsoft's follow-up to their Summer of Arcade, launches today, Wednesday, September 29th, with Dark Energy Digital's Hydrophobia. They'll follow that up October 6th with Twisted Pixel's much-anticipated Comic Jumper. October 13th will see the release of Pinball FX 2, and they'll close it out October 20th with Team Meat's Super Meat Boy. What exactly are these games all about, and are they worth your money?
Dive into Hydrophobia today, September 29th
It's no secret that I am a huge fan of Dark Energy Digital's Hydrophobia. This third-person, hydrated survival-adventure game is at the top of my list of this year's must-play games. I met with Senior Creative Designer Rob Hewson at
PAX East
and
again at E3
, where he showed me the amazing power of their HydroEngine at work. We met up again at this year's PAX Prime, and Rob showed me even more of this incredible game while chatting with us about the story and its origins.
?We wanted to do a tangible near future, so we wanted something based in forecast and trends today and connect it to contemporary politics and science,? Rob explained. ?The United Nations is currently projecting that there's going to be 9 billion people on the planet by the middle of the century and not enough food and resources to feed them all, so that's what they're saying is going to happen, and in that scenario, Malthusian politics naturally will arise.? The terrorists on The Queen of the World, the fictional city-ship in Hydrophobia, follow this social theory. ?On the other hand, you've got Cornucopians, who believe that human ingenuity and technology is the way. So far that's worked, but it looks like we're getting to crunch time in the mid 21st century. So we wanted basically a day after tomorrow future that's connected to today, and that goes down to the technology, the nanotechnology, with Nanocell and their water purification, that's all stuff that's said to be around the corner?even the flexible screen, you know it's technology from tomorrow and authentic. We're trying to make something connected to today."
Rob and his team have not only done this, they've also created something that will make gamers think and look into what's going on in politics today. And after this, what's in the mix for Dark Energy Digital? ?We're establishing a big IP here, it's a trilogy, and there's loads more to tell in this story,? Rob told us. They're also hoping this game pushes back the boundaries of what the XBLA can do. Their procedural technology ?expands the spectrum of the XBLA,? as Microsoft put it.
Rob showed us another part of the game ? a part towards the end we hadn't seen before ? and, as always, I was impressed with not just the beauty of the water and the fun of building combo attacks, but also the strategy needed to fight enemies and get around hazards (some of which you've built yourself). He couldn't show us the challenge room, but he did tell us a little more about it. He explained how they wanted to give players a chance to see what Kate will become in the sequels ? they put players in a situation where they have been fast-forwarded and placed in an arena where she can use her amazing new water powers to kill enemies even more creatively.
I'm looking forward to playing Hydrophobia ? and its sequels ? starting the 29th. For a full write-up, check out Kyle Hilliard's
review
that went up this past Monday.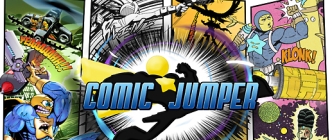 Comic Jumper gives you something to get Smiley about on October 6th
PAX Prime has a special place in the heart of Twisted Pixel, the creators of Comic Jumper. In 2008, The Maw won the Audience Choice Award in the PAX 10, and here they are two years later with a brand new game being featured in Game Feast. We had a chance to talk to Lead Programmer Mike Henry about the game, the team, and how they feel about PAX.
?Comic Jumper is a game where you play Captain Smiley, who is the star of his own comic that really sucks and gets canceled,? Mike told us. ?He has to take odd jobs from Twisted Pixel jumping into other comic books for money so that he can get enough money to relaunch his own comic line. The gameplay is?most of the time it's like a twin stick version of Contra or Gunstar Heroes, and then there are brawling sections, and then reticule shooter sections sort of like Sin and Punishment, we just sort of throw it all at you back to back.? (Having played the game, I can confirm that the gameplay is this fantastically awesome.)
So what made them decide on Manga as their next comic type? Mike laughed at the question. ?That one was?well, we just have a lot of people who thought that would probably be the best source for comedy. There was a lot of discussion about what comic genres we should do, and the end result was we want comic styles that are very visually distinct from each other, and so when it came down to it, we were like ?Manga is all black and white, and it doesn't look like anything else, and we don't know squat about it, and so we can just make up a whole bunch of stuff, and just do whatever we want just because it's funny.' And I think those are probably some of the funniest levels we've got in there.?
And how is it being back at PAX again, after winning the Audience Choice Award back in 2008? ?Oh my God, it's the best thing ever,? Mike said, beaming at us. ?It's so great to come back to PAX?and then last year, we came with ?Splosion Man, and everybody who came up to the booth was just really excited about it, and it was the first time that I had ever experienced somebody already knowing who I was before I introduced myself, and that's just the best thing ever.?
What are their plans for after Comic Jumper? Of course, that's top secret. ?We have some plans, but we can't talk about them just yet. But I honestly hope we get to announce them soon, because they're just awesome and I'm super excited about it.?
Be sure to jump in as Captain Smiley and his irrepressible sidekick Star starting October 6th.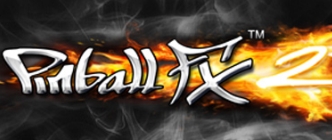 Pinball FX 2 has, uh, tables! For you! Starting October 13th
Like Rock Band, Pinball FX 2 is a platform for all your Pinball FX needs. The sequel offers a new "state-of-the-art" physics model along with plenty of redone graphics and boasts "an unparalleled pinball experience for novices and experts alike." Importing Pinball FX tables into Pinball FX 2 gives players access to the new physics engine, enhanced graphics and brand new Achievements. The game will also include a splitscreen multiplayer mode, which Microsoft says is a first in video game pinball history.
Pinball FX 2 is technically free - you just have to pay for the tables. I don't know about you, but I like my pinball played in a shady bar while balancing a PBR can on the smudged glass, or in the back of a bowling alley after knocking down some pins. But if pinball is your thing, and you don't like dirty places with cheap beer, this game could be up your alley.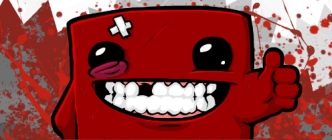 Super Meat Boy brings the flavor on October 20th
Yes. Don't even think about it, just, yes. You play an adorable meat cube named Meat Boy and your goal is to save your significant other, Bandage Girl, from Dr. Fetus. I mean?what?!?! Actually, it's hard to top Microsoft's own description of Super Meat Boy: "Super Meat Boy is a tough-as-nails platformer where you play as an animated cube of meat who's trying to save his girlfriend (who happens to be made of bandages) from an evil fetus wearing a tux who lives in a jar." I already want to buy it.
There's platforming, obstacles, unlockable content, and somewhere in the area of 300 levels. There are also unlockable characters from other games, including Tim from Braid (who can rewind time) and Bit.Trip's Commander Video, who can
hover
? not to mention some of the Behemoth's best characters, Alien Hominid and one of the Castle Crashers. The crew over at Team Meat is promising that Super Meat Boy will provide classic platforming gameplay and "no BS." This game is definitely for you if you like cute, clever, and the potential for a lot of fun.
"Please sir, can I have some more?"
Microsoft has set up a dedicated Game Feast page at
Xbox.com
, so chow down on that link for more information on all of these games. And be sure to keep Gaming Target on your plate as we'll have more on all of the upcoming Game Feast morsels.