Reviews: Good thing the landlord pays for the water bills.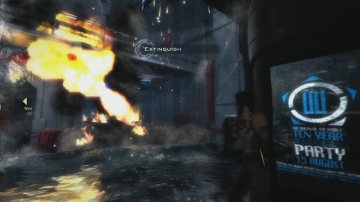 Hydrophobia provides the Xbox Live Arcade with an interesting science fiction story and an original set of gameplay concepts, but the gaming template feels incomplete. Whether it be the story, the functionality of the gameplay or the general graphics and sound, it just seems like the developers were screaming downstairs to their publisher parents for ?ten more minutes!? In defense of the game, though, it was always the intention that this be the first of a series of games and, furthermore, it's still worth downloading for 1200 Microsoft Points ($15).
Overpopulation has run rampant in the scifi narrative of Hydrophobia, to the point where the health and resources of the world are being strained to dangerous levels. In response to the ever-increasing number of babies and constantly depleting space and resources, an enormous seafaring ship was built to house those who could afford its ticket. In a cross between Titanic and BioShock, the vessel, titled ?The Queen of the World,? has become home to the globe's richest scientists and businessmen.
I know you're reading this and thinking that absolutely nothing could go wrong on this gigantic ship full of the world's wealthiest and brightest. Unfortunately for them, and an absolute surprise of no one else, catastrophe strikes when Malthusian terrorists decide that the ship needs to be destroyed -- or stolen? The story is intentionally ambiguous on the true goals of the terrorists, which is one of the letdowns of the half-baked narrative.
The Malthusians believe that the only way to cure the world of its overpopulation woes is to kill as many people as possible, including themselves. There is no enemy more dangerous than one who values its own life in the same regard as yours. These guys are vile and suicidal.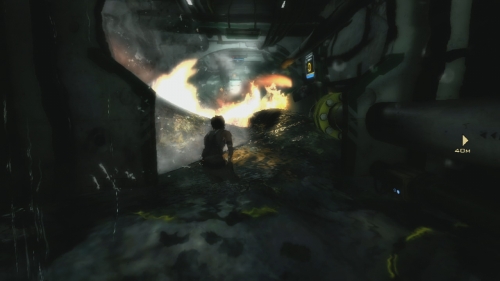 Kate Wilson, conversely, is merely a talented security engineer who isn't out to kill herself and others. She's an attractive female protagonist, but not to the point of being over-sexualized. In fact, a male character could've just as easily portrayed the role of Kate. She is a skilled climber, which comes in handy, as well as a gifted hacker. She is not, however, a talented killer, and never truly becomes comfortable with the idea of murder, even if it is for her own safety. Kate is joined via headset by her security engineer cohort Scoot, who is of clearly Scottish descent. Scoot is there to guide you through the halls of The Queen of the World, as well as provide moderately annoying comic relief.
Water plays a huge roll in the world of Hydrophobia. Puzzles, traversal and gun combat all revolve around the use - and hazard - of water. Rooms will need to be filled and emptied with the substance, and enemies can be quite literally attacked with the recognizable blue stuff. And speaking of recognizable, the water looks great in this game. It doesn't always seem to react in an entirely realistic fashion, but it's fun to play with, and swim around in, for the most part.
Larger areas of open water, where there is a lot of room for maneuverability, work really well. However, once you find Kate confined to narrow hallways, the camera becomes erratic and difficult to control. Shooting, climbing and general movement from this cramped third-person perspective are difficult to manage in tight spaces. Emerging from water is also an issue, as the screen is thrown into a warp and twist transition. It's a cool visual effect, sure, but one that can also be disorienting and confusing.
The actual shooting gameplay is much different than the typical cover-and-shoot mechanics offered in rival third-person games. This is because Hydrophobia is all about creating environmental damage using fuel-filled floating barrels. You're also able to exploit gas leaks and loose electrical wiring, but these poorly secured fuel barrels become your main mode of attack. So, it's a good thing ?The Queen of the World? decided to store its fuel in floating barrels strewn about the halls of the lower level of the ship, because there are exploding barrels everywhere. How convenient. Near the end of the game, you will start to collect more traditional ammunition and remote explosives, but your main weapon is predominantly a chargeable sonic blaster. It can be used to push barrels around, and a charged blast will detonate a barrel.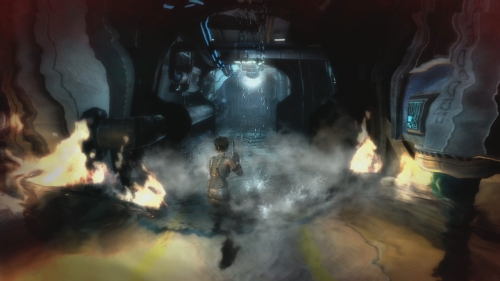 Everyone loves blowing up barrels and using environmental damage to take out enemies. This is usually a gameplay afterthought, so playing a game that bases its whole attack system around it is inspiring. This creativity does come with a caveat. Unfair deaths from stray gas leaks or random electrical wires occur often, and an unfriendly check point system means you'll being replaying large stretches of the same section frequently. It's not nearly as fun as your intention of blowing up a Malthusian with a random barrel.
An unlockable challenge room allows you to take advantage of your special powers for manipulating water as an attack. It's curious to see these powers only available in this clearly tacked on (but still entertaining) arena, considering that when the game was first shown off, this was one of its selling points. The absence of this water manipulation power in the beginning, as well as the ending, which I am not entirely sure you could actually consider a real ending, makes the game seem as though it came out earlier than expected.
Without offering any spoilers, the ending comes out of nowhere, and instead of offering a conclusion to any element of the game, it offers a whole new objective. A worthy objective to be sure, but one that should have been taken care of in the first part of this assumed series. In fact, it seems as though at one time, it was resolved in this opening episode, but had to be cut due to time constraints.
The story feels unfinished and the ultimate motivations of the Malthusians are never fully revealed. Your assumptions about why they are on the ship are quickly proven wrong, but we are never given further information than that. We know they are bad, but we don't know what they are doing. This is not entirely a negative aspect of the game. To be entirely placed in the shoes of Kate, we should be as aware as she is. We are never given the perspective of the enemy, or given a revealing monologue by the Malthusian overlord, and while I applaud this narrative consistency to never leave the eyes of Kate, we should really be given a little bit more information about what is going on, especially if we are to be encouraged to buy the second part.