News: And learn how to find them yourself.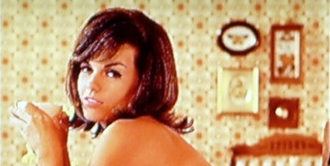 Mafia II
was a pretty good game.
Not great
, but definitely pretty good. It's blend of an interesting backstory and a presentation mimicking classic gangster movies really evokes the 1950s time period. You know what else evokes that time period? Vintage 1960s nudity.
2K and Playboy struck a deal to include the centerfolds of 50 Playboy Playmates throughout the world of Mafia II. Since the game's release, it looks like those images have finally been cataloged together at
Hot Blooded Gaming
. Suffice it to say, that link is definitely NOT SAFE FOR WORK. Unless you work for Playboy that is.
If you'd rather do the work yourself, GameFAQs user ProfessorNinja has posted a
complete guide
on how to uncover all 50 Playboys.
Speaking of all 50 Playmates, here's a handy list so you know who you're... admiring... in the game:
Lari Laine - May 1958

Elaine Reynolds - October 1959

Ellen Stratton - December 1959

Sally Sarell - March 1960

Linda Gamble - April 1960

Ann Davis - September 1960

Connie Cooper - January 1961

Tonya Crews - March 1961

Dianne Danford - November 1961

Kari Knudsen - March 1962

Marya Carter - May 1962

Merissa Mathes - June 1962

Jan Roberts - August 1962

Mickey Winters - September 1962

Laura Young - October 1962

Toni Ann Thomas - February 1963

Sharon Cintron - May 1963

Connie Mason - June 1963

Phyllis Sherwood - August 1963

Victoria Valentino - September 1963

Terre Tucker - November 1963

Nancy Jo Hooper - February 1964

Melba Ogle - July 1964

China Lee - August 1964

Astrid Schulz - September 1964

Rosemarie Hillcrest - October 1964

Jo Collins - December 1964

Sally Duberson - January 1965

Sue Williams - April 1965

Maria McBane - May 1965

Gay Collier - July 1965

Allison Parks - October 1965

Pat Russo - November 1965

Dina Williams - December 1965

Melinda Windsor - February 1966

Priscilla Wright - March 1966

Dolly Read - May 1966

Kelly Burke - June 1966

Tish Howard - July 1966

Susan Denberg - August 1966

Lisa Baker - November 1966

Fran Gerard - March 1967

Gwen Wong - April 1967

Joey Gibson - June 1967

Dede Lind - August 1967

Angela Dorian - September 1967

Reagan Wilson - October 1967

Kaya Christian - November 1967

Lynn Winchell - December 1967

Elizabeth Jordan - May 1968