News: Admire Agassi's mullet in 2011.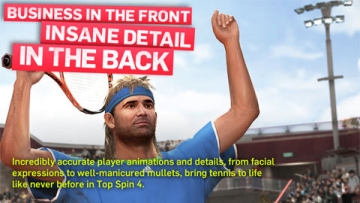 With today's announcement of Top Spin 4, it looks like 2K Czech has traded the racketeering of Mafia II for the tennis rackets of everyone's favorite net sport. Coming to the PlayStation 3, Wii and Xbox 360 in 2011, Top Spin 4 will even give Andre Agassi the power to grow his hair back... with a GameStop-exclusive playable character that is.

Agassi's downloadable appearance will be limited to PS3 and Xbox 360 pre-orders, but all three systems will receive what 2K is calling "the most realistic game in the Top Spin franchise." The game will feature a laundry list of new features, such as "redesigned controls, jaw-dropping player models and Signature Style animations, enhanced TV-style presentation elements, and one of the deepest player rosters to date featuring tennis' top athletes and legendary pros."

?Top Spin 4 is shaping up to be the most realistic and exhilarating tennis game in the Top Spin franchise,? said Greg Thomas, president of product development for 2K Sports. ?For this iteration, the development team is focused on delivering a bold new take on the sport of tennis by allowing gamers to experience first-hand an uncanny level of realism in the player and stadium models, authentic audio captured directly from real tennis matches, and all-new innovative controls to dominate the competition.?

We'll have more soon.