News: Catwoman is on the prowl and Two-Face wants to know if you feel lucky?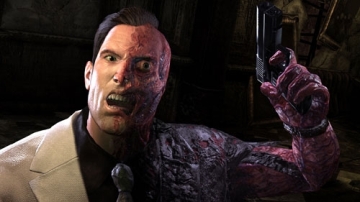 The United Kingdom's Official Xbox Magazine has published a new preview of Batman: Arkham City and it is chock full of new information about The Dark Knight's next adventure. The discussion boards at ArkhamCity.co.uk have helpfully summarized the storyline for those of us on the left side of the Atlantic:

The game begins 18 months after the first game during a war between Two-Face and Catwoman. Harvey Dent's alter ego has captured the super thief and is deciding Selina Kyle's fate with a flip of his trademark two-headed coin. The coin spares Catwoman, but a shootout occurs with a sniper's bullet "missing Catwoman by a whisker." The laser sight that appeared on Catwoman before the shot was fired was in the shape of a smiley-face, so The Joker (who has some kind of disease) is still causing problems in Gotham.



The preview would go to reveal that The Riddler, Jack Ryder, Doctor Strange, Victor Zsasz and Calendar Man will all appear in the game. The player's interactions with Calendar Man will actually be affected by the system clock of your PC, PS3 or Xbox 360. Changing the date on the clock will cause Calendar Man to reveal different information.

These new foes will force the Caped Crusader to battle more henchmen at the same time as compared to

Arkham Asylum

and will even require a visit to Crime Alley. However, Rocksteady has also said that the characters they've confirmed so far are the only characters that will appear in the game

for sure

, casting doubt on previous confirmation that

Mr. Freeze and Talia al Ghul

would make an appearance.

Finally, the developer has confirmed that a co-op mode of some kind will be included in Arkham City.

To get you really geared up for Batman: Arkham City, WB Games has released

the first 20 screenshots

of the game, which will be released on the PC, PS3 and Xbox 360 next Fall.