Previews: Sharpen up your cheating skills in Red Dead Redemption before the release of the Liars and Cheats DLC.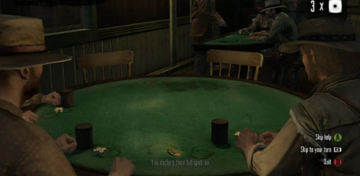 Plenty of
online poker
fans are also big gamers (and vice versa), and for them the new hit game Red Dead Redemption offers up the best of both worlds. Much of the action in Red Dead Redemption is far from the poker table, but you can sit down in numerous towns in the game and take a crack at Texas Holdem games.
Poker is just one of many elements in
Red Dead Redemptions Liars and Cheat Pack
, so keep in mind that it's not a major element in the Wild West open sandbox game. You can sit down at a poker game to pick up extra cash in the game or collect various items and clothing that let you unlock the ability to not just play in higher stakes games, but also ones that let you cheat at the tables.
It wouldn't be the Wild West without
poker
, and cheating was a big element in the games back then. Sharpen up your cheating skills in Red Dead Redemption and you'll be able to slip cards out of the deck while dealing and hide them in your sleeve, sliding them back out later to use in your hand when you need them. You'll have to be on top of your cheating game, though, since if another player at the table catches you cheating you'll have to battle it out in a gunfighting duel. Here's a great video guide on how to
duel and cheat from gamingdrunk.com
.
Note:
Don't forget to acquire the "Gentleman's Suit", you'll need this to be able to cheat.
As far as the poker action, you'll be able to play in No Limit Texas Holdem cash games versus computer and real human opponents, using the expansion pack. The poker games in different towns all have different stakes, so you can pick a buy-in level that's comfortable for you. Once you sit down in a game, your goal is to knock out each opponent by taking all their chips, competing against the other players to see who'll be the big winner for the night.
The computer opponents aren't the best poker players in the world, so it'll be interesting to see how the new multiplayer add-on handles, especially with the cheating option. That said it doesn't mean you'll win every hand, though, as bad beats and suckouts even happen in the Wild West, so you'll still need to play your
best poker game
if you want to win.