News: Bridging the gap between Gears of War 2 and Gears of War 3.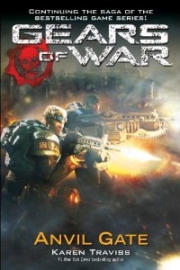 Del Rey Publishing has announced that the third novel based on the Gears of War series, Gears of War: Anvil Gate, will be available in stores on August 31. The trade paperback carries a retail price of $16.00, but Amazon has it for under $11.

The novel will be written by Karen Traviss, a prolific sci-fi writer who has also penned the previous books in the Gears of War series as well as nearly a dozen Star Wars stories and her own original fiction.

Anvil Gate will bridge the gap between Gears of War 2 and next Spring's Gears of War 3 (which Traviss is also writing), telling a tale of a team-up between the Locust Horde and the Gears:


With the Locust Horde seemingly destroyed, Jacinto's survivors have begun to rebuild human society on their island stronghold. Raiding pirate gangs take a toll ? but it's nothing that Marcus Fenix and the Gears can't handle. Then the terrifying life-forms they thought they'd left behind - the Lambent, creatures even the Locust feared - begin to advance across the planet. Gears and gangs must fight side by side to stop their deadliest enemy yet, falling back on the savage tactics of another bloody siege: Anvil Gate.


?Anvil Gate is part of the fast-moving storyline between the second and third Gears games, so it's essential reading for any fan who wants to fully understand the events of Gears of War 3 - the final game of the trilogy, also written by Karen,? said Epic Games Executive Producer Rod Fergusson.

We'll have more soon.