News: To the Dagobah system, you must go.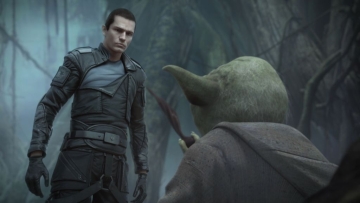 One of the first bits of conecpt art that LucasArts released for Star Wars: The Force Unleashed II was Galen "Starkiller" Marek standing on Dagobah. Naturally, this lead to the Internet (and us, I don't deny it) assuming that Yoda would play a part in the story. Perhaps there would even be an epic Jedi duel between everyone's favorite muppet and Vader's Apprentice.

Alas, it doesn't look Yoda is much for fighting these days, but... an appearance in the game, you can count on.

LucasArts has released a short trailer showing Starkiller's first meeting with the Jedi Master, which you can view right here:



Star Wars: The Force Unleashed II will be released for the DS, PC, PlayStation 3, Wii and Xbox 360 on October 26.