DLC Review: How badly do you want to play as a guy named Pig Josh?
The Red Dead Redemption: Legends and Killers Pack is now available to take your real-life currency and ride off into the sunset. Unfortunately though, you are not able to shoot the DLC and steal back your money.
That is not to imply that this download is not worthwhile. Maybe you don't really need that digital currency. Maybe you realize how easy it is to walk into the next town to get some more internet cash, or to just steal the web money from a random rider out in the great open plains. Maybe I have taken this metaphor of Microsoft Points and PSN funds as your horse way too far and I should just shoot it because its legs are broken.
I had to get one last horse reference in there.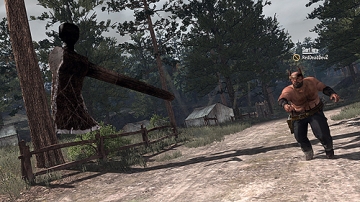 What it really comes down to is how much Red Dead multiplayer you play. The single player offering here is close to nothing. You can now purchase tomahawks from the general store at the Manzanita Post, and there are a few challenges related to tomahawk use with an Achievement/Trophy reward for completing them all. The hatchet-tossing fun is about as short lived as the guy you threw the tomahawk at. You'll be done throwing them around pretty fast.
The multiplayer offering, on the other hand, is pretty plentiful, and the addition of the tomahawk against real people does offer a new style of play. The tomahawk basically serves as a one-hit kill, as long as your aim is right.
There are eight (sort of) new characters to play as, and nine (sort of) new maps. The eight new playable characters are all unlocked immediately upon download. All of them are from Red Dead Revolver, the last-gen Red Dead console release that shares nothing with the new game, other than the western setting and the two words from the title. Whether you recognize them or not, they are some pretty cool looking guys and gals and a few of them have specific Achievements/Trophies associated with their play.
The new maps are a nice change of pace, a few them offering different styles of online play than what you are accustomed to. The problem, or non-probem depending on your mindset, is that none of these areas are new. They have all been pulled from the huge open world of Red Dead Redemption. This design choice is a bit of double-edged tomahawk, which I think would just be a miniature battle axe. On the one side of the tomahawk, you get to jump right in to a recognizable venue to shoot people. This means there is very little time running around like a chicken without a head that has presumably been decapitated by a tomahawk.
On the other side of the tomahawk, the sharp side, zoning off areas of the open world you have already explored to use as multiplayer means there is really nothing new here. There is no real opportunity to play a new map for the first time. It's already been explored.
In defense of Rockstar though, they do not list the multiplayer content as "new maps" in the Legends and Killers download description. They list them as "new map areas," which isn't deceiving at all.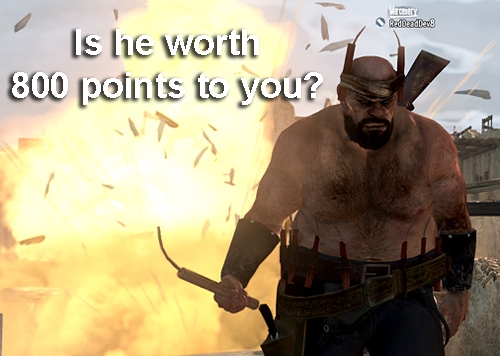 As I stated earlier, it all comes down to how much time you have or plan to invest in the multiplayer. If you're bored with the current map areas, and characters, then definitely download the Legends and Killers Pack right away and start unlocking Achievements/Trophies. If you don't foresee yourself playing much multiplayer, then this is one you can skip. You will miss out on the opportunity to shoot online players as a fat guy with a dynamite headband though. How important is that to you?