News: Arkham expands next year.





After an initial reveal at the Spike TV Video Game Awards more than six months ago, WB Games is finally ready to officially announce Batman: Arkham Asylum 2. Now known as Batman: Arkham City, the sequel sees the Dark Knight patrolling "Arkham City," a heavily fortified district within the metropolis that houses "Gotham City's thugs, gangsters and insane criminal masterminds."



Once again developed by Rocksteady Studios, Batman: Arkham City will be released on the PC, PlayStation 3 and Xbox 360 in the Fall of 2011. It's a long wait, but it'll likely be worth it as WB Games is promising a brand new story and "a new all-star cast of classic characters and murderous villains from the Batman universe." From the VGA teaser trailer, we know for sure that The Joker (voiced by Mark Hamill) and Harley Quinn will return. And back in April,

Castle

's Stana Katic revealed she would be playing Talia al Ghul while Maurice LaMarche confirmed he would be appearing as Mr. Freeze.

Rocksteady is not planning to rest on the laurels from their first Batman game as the developer has said Arkham City will include "a vast range of new and enhanced gameplay features to deliver the ultimate experience as the Dark Knight."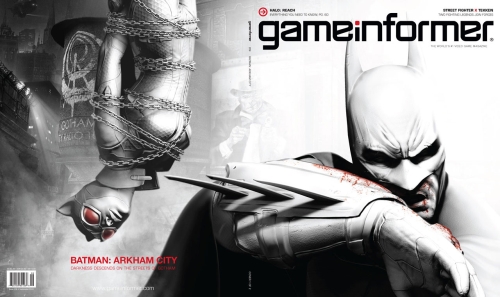 No other details were revealed about the Caped Crusader's next adventure. Instead, WB Games and Game Informer have assured us that a full reveal will be forthcoming in the magazine's September issue. As you can see from the issue's cover, Catwoman (in her
Mortal Kombat vs DC Universe
costume) will also be making an appearance in Arkham City. A poster depicting Two-Face (as Uncle Sam) can also be seen in the background.
You can keep it tuned to Gaming Target, where we'll have more on Batman: Arkham City soon. Same Bat-time, same Bat-channel.