News: Whip Dracula in the first multiplayer Castlevania game.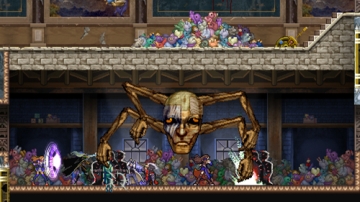 Konami has added Castlevania: Harmony of Despair, the first multiplayer Castlevania game, to the Xbox Live Arcade today. Available to download for 1200 Microsoft Points ($15), Castlevania HD allows six players to bring the fight to Dracula.

More information about the game can be found right here:


Dracula returns in Castlevania: Harmony of Despair, the first exclusive Xbox Live Arcade Castlevania game. Featuring the classic fast-paced 2D side-scrolling action the series is known for, vampire hunters from across the series will join forces to return Dracula, the Lord of Darkness, to his eternal slumber.

Designed by the legendary producer of the Castlevania series, Koji Igarashi, Castlevania Harmony of Despair allows up to six friends to play together via online co-op story mode or see who the best vampire hunter is in Survival Mode, which challenges you to fend off your friends while fighting for your very survival. Utilize your co-op skills to explore the levels with your friends in order to find hidden locations with special items and equipment or team up in battle to let loose destructive attacks on the hordes of attacking creatures.


Konami plans to support Castlevania HD with extensive downloadable content including new characters and maps, which the publisher promises will be available "soon."

If you want to know more about the latest Castlevania game, be sure to check out our full review of the game, which was published Monday.