Review: Yes, it is another lame zombie game -- and I'm okay with that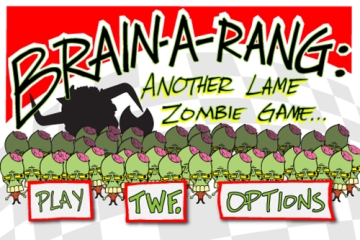 Brainarang is quite possibly the most succinct title ever to grace the App Store. The game tells the story of a brain and his many powered boomerangs. Now that you have been briefed on the prologue, let's get into the game. As I am sure you have gathered so far, you are a brain, specifically Brainarang, creation of Dr. Finneus Sveetbreads. That's about all you need to know, and even that is probably delving into the back story a bit much. The designers of Brainarang, just two guys, take the story about as seriously as you or I do. The reason you are here is to take out zombies. Pulling up the game presents you with the title of the game, along with the subtitle, "Another Lame Zombie Game." Brainarang doesn't attempt any pretention - it is what it is. The whole affair has a sort of self aware nonsensical mentality about it.
You play as Brainarang, locked to the middle of the playfield as you trace your finger to outline the trajectory of your boomerangs across the iPhone touch screen. A neverending stream of zombies (is there any other kind?) amble towards you as you try to take out as many out as possible. No story progression, no levels, just zombies and destructive boomerangs.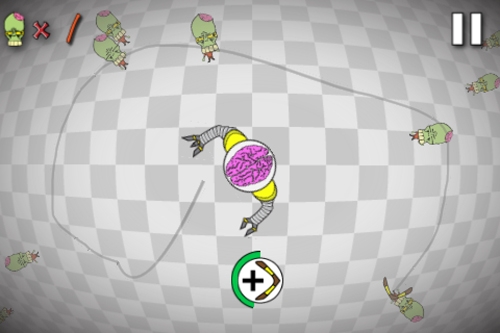 As you progress you encounter stronger zombies that require more hits, and you collect cleverly titled boomerang powerups like add-a-rang as you attempt to beat your high score. Along with collecting add-a-rangs, you can also collect health powerups, rocket boomerangs that move faster, nukes that destroy every zombie on screen and the ability to slow all the zombies down by calling forth a snow storm. These powerups have limited use, and pop up randomly. When you are taking on the more powerful zombies, like the ones wearing metal helmets, or the ones carrying grenades, nothing is quite as relieving as seeing that nuke pop up on screen.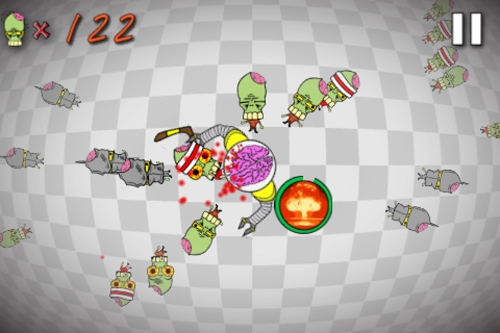 It can be a difficult game, but rarely unfair. You have full control of your boomerangs, so it is hard to complain when you get overtaken by zombies. The music immediately calls to mind some classic Earthworm Jim bass-heavy tunes. There is only one song, and it can become extremely repetitive quickly, but only on your best game will you be fighting zombies for more than a minute or two, so it is easy to forgive the music.
There is only one background, and it really feels out of place in the goofy zombie setting. All you ever see below your feet is a white and grey checkerboard. It makes the game feel much more amateur than it should, and I hope to see it elaborated upon in the promised updates. Brainarang is also missing a few features from other iPhone games that have completely spoiled me. There is no real way to share high scores other than telling someone how many points you've got, and even then there is no way to prove it as there is no accessible leaderboard from the main menu. The only time you see your high score is at the end of a game.