News: David Jaffe, Cory Barlog, Stig Asmussen, Ru Weerasuiya and Dana Jan sit in one room to discuss the franchise.





Having loved God of War: Chains of Olympus, we already planned to pick up the second GoW game by developer Ready at Dawn, God of War: Ghost of Sparta. So, when Sony announced today that it would release it on November 2, we were simply going to go to the store that day and buy it. But, for Sony, that wasn't good enough. The company unleashed its pre-order Sirens, luring us to order the game before launch day with an offer no Kratos fan can ignore.

The Ghost of Sparta pre-order package will feature a documentary with the past and present game directors of the God of War franchise: David Jaffe (God of War), Cory Barlog (God of War II), Stig Asmussen (God of War III), Ru Weerasuiya (God of War: Chains of Olympus) and Dana Jan (God of War: Ghost of Sparta). All five game directors participated in the roundtable discussion and it was taped in front of a live studio audience. This almost guarantees that we will have to do a follow-up news post when one of them spills the details about their experiences, such as a previously unknown development nightmare or alternate direction in which they almost took the series.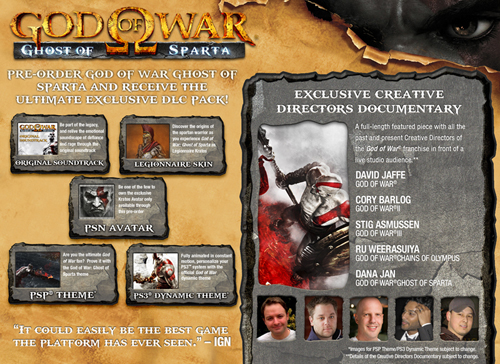 Accompanying this intriguing video will be the full soundtrack to the upcoming PSP game. Finally, the pre-order package will include a PSP theme, PS3 theme and an exclusive PSN Kratos avatar, ensuring your Sony hardware is covered in Kratos.

We're thankful that the documentary, soundtrack and digital doodads are free pre-order bonuses and not part of some more expensive ?Special Edition.? While there is a pricey special edition bundle that can be pre-ordered starting today, it comes with a PSP. It's a black and red, two-toned PSP-3000 (notice, it's not the PSP Go model) that comes with the Ghost of Sparta UMD and the first game in the form of a downloadable PSN game voucher. Rounding out this $199 Entertainment Pack is a UMD of the movie Kick Ass and a 2 GB Memory Stick Pro Duo. Curiously, if you want to buy this god-like PSP, there's no mention of it coming with the pre-order bonuses. In effect, you would need to buy the game twice, but such is the difficult, often unfair path of a true Spartan warrior.

Update: Previously, we questioned whether or not pre-ordering the $199 GoW: Ghost of Sparta PSP System Entertainment Pack would entitle you to the pre-order bonuses. The press release simply listed the bundle coming with the UMD game and made no mention of the bonuses. And, as we know from past PSP bundles, that sometimes means a UMD in a cardboard sleeve. Thankfully, Sony got back to Gaming Target and pointed out that the Amazon.com and GameStop product pages are now live and do include the bonuses. Hurray for proper research and confirmation!