Review: Does HD stand for highly disappointing?
This is not the Castlevania game I wanted for the Xbox Live Arcade, and I am not entirely sure it is the game anyone else will be looking for either. Castlevania: Harmony of Despair looks like a Castelvania, because every single asset of the game has been pulled from a previous Castlevania. It sounds like a Castlevania because none of the music has been created specifically for this title. It plays like a Castlevania because you can choose from five different recognizable Castlevania heroes who look and play exactly the same as the title they originally starred in. There are even fleeting moments where this game feels like Castlevania, but then the timer on the top right corner of screen reminds you that maybe this is all a dream and you are not really in Dracula's castle.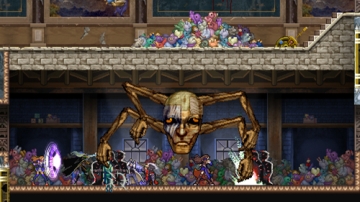 Harmony of Despair is a step away from the Castlevania formula that was perfected in Symphony of the Night and expanded upon in the numerous Game Boy Advance and Nintendo DS games. There are five different heroes to choose from, each with different play styles and abilities. You are in a castle and you are fighting monsters, but this time, it is not about building experience and exploring every nook and cranny of a gigantic map. This time, it is a mad dash to the end, stuffing as much crap into your pockets as you can before the timer runs out. A curious choice to be sure, given the pedigree of the series, and one that I cannot entirely appreciate.
There are six levels to explore, each full of items and a boss at the end to defeat. You are encouraged to play these six levels over and over. The problem with playing these levels repeatedly is that instead of collecting experience, you collect items, and often the same items you already have. Items are the only thing you are allowed to keep through each level playthrough. The problem with this is that the levels contain, for the most part, the same items. What you really end up collecting is money. You sell your item doubles to buy more powerful weapons and armor. This means that you are grinding on enemies with no assured benefit. You may run through a level and collect nothing but items you already have. There is neither a leveling reward nor any experience statistic boosts from playing the game over and over - just the possibility that you might get something cool.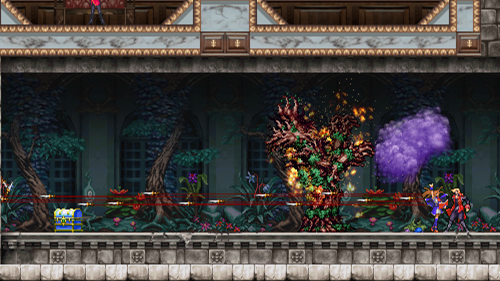 Clearly we have established that items, weapons and armor end up being the main focus of your progression. The main goal of your chosen character is to get to new stuff, which confuses me as to why the decision was made to make these items difficult to access. There are only two ways to access items and equip your newly found treasures. Only before beginning a level, and at two or three designated areas in each level, can you access the equip menu. This means you could be working your ass off, replaying the same level over and over to get that awesome new sword, but unless you are near one of those special areas where you can equip your items or feel like going out of your way to find one, you won't get to change up and try out your new stuff until leaving the level to restart again. So the main rewards of playing the levels over and over are not as accessible as they should be.
The different levels are diverse, interesting, often confusing, and can be nostalgic if you have invested any time in previous Castlevania titles. There are chests hidden throughout and branching paths all over the place. As in every Castlevania title, you are encouraged to explore -- but there is a timer. Every game you play is limited to 30 minutes, whether it be multiplayer or single player; you are only given 30 minutes to explore each level and defeat the boss. Why you would be encouraged to explore, an act which clearly requires time, but only be given 30 minutes, is a question to which I don't have the answer.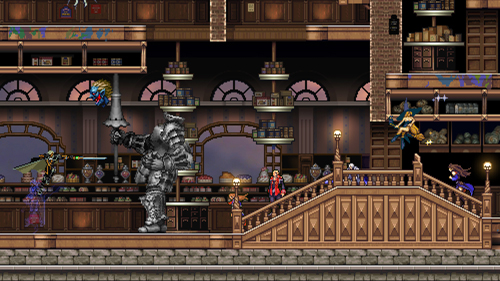 The subtitle of the game, Harmony of Despair, is a title that can be, and has been, cleverly shortened to HD. Those two letters are in place to say, ?hey, this looks good.? Castlevania looks good in that it is crisp and colorful, but the graphics are not good. They are classic, they inspire a feeling of nostalgia and they serve their function perfectly, but there is no denying that every element of the game has been pulled from a DS game. Alucard may be from a PlayStation game, but it is likely that they used the playable model created for his appearance in the DS title, Dawn of Sorrow. They squandered a real opportunity to redraw at least the playable characters and give us detailed and interesting players. Instead, what we get is a sprite that was originally designed to appear on a DS screen, blown up for your HD TV. The graphics and character models are totally functional, but simply stated -- they should have looked better.
The ability to zoom in and out of the map is a neat effect. It's cool to be able to see a level in its entirety as enemies walk about, and to watch traps turn on and off. It's a new perspective to a recognizable Castlevania element. Another neato feature is the replay function. You can upload your best level replays, and watch what others have done to try and defeat the dark lord. Seeing what other players have been able to pull off is yet another way the game encourage players to replay the levels.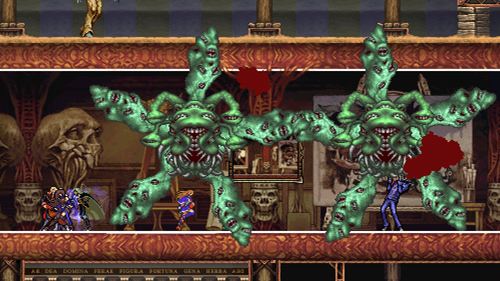 The whole game seems to have been built from the bottom up to deliver a multiplayer experience. Playing the game alone is not encouraged, and the benefits of playing multiplayer over single player are staggering. It is at times as if they never considered that people may want to play Castlevania alone, which is odd considering Castlevania has been a single player game since 1987. The biggest evidence of barely considering the single player comes from the pause menu. You cannot pause the game when playing single player. You can press the start button, you can bring up something that looks very similar to a pause menu, but the game continues on right behind the menu. Obviously, the inability to pause during multiplayer makes sense, but when you are playing alone, there is no reason you should not be able to pause. Either Konami just didn't consider that there would be players wanting to play Castlevania alone (imagine that!) or this is all just a way to encourage you to jump online. Either way, it's dumb.
This Castlevania has been designed with multiplayer in mind, and it shows when you find a few worthy online partners. Many of the same issues persist in the online game. It's difficult to access the main incentive of playing the game, the collectible items, and a timer still exists when you are encouraged to explore. You are never completely unable to progress through the levels without a partner, but there are many areas that require another player to hit a particular switch for you, or counterbalance a weight so that you can reach a higher area to open a chest. Secret areas being only accessible with a partner is a way to make working with another player a more rewarding experience. Items collected from chests during multiplayer automatically go to all the players in the game (up to six), which means there is never any squabbling over collectibles. Enemies and bosses all become easier and more fun when there are multiple swords, whips and magic attacks making their life meters drop. Even exploration becomes a little simpler with multiple players, as it is easy to split up and find each other later. As with any online game, it is the most enjoyable when you are able to play with an experienced and friendly set of players. The game quickly becomes much more rewarding. The same strange development decisions still exist, but you are more willing to forgive them with a fellow vampire hunter.